Madonna at Chelsea/Man Utd game at Stamford Bridge, London
Madonna au match Chelsea/Man Utd à Stamford Bridge, Londres.

Madonna, wearing a Chelsea scarf, with boyfriend Brahim and David after Chelsea/Manchester United game in London on April 06, 2011. Unfortunately her team Chelsea lost to Manchester United in the Champions League (0-1).
Update: it is not David on the picture but Mercy as Darolo explains via the comment.

Chelsea supporter Madonna and adopted son in kit after watching team lose to Man Utd
True blue
Published: 08/04/2011
Chelsea supporter Madonna seems determined to keep kit in the family - after watching her team lose to Man Utd in the Champions League.
The True Blue singer, 52, proudly wore her side's scarf and adopted son David, five, was in the shirt as they walked away from Wednesday's 0-1 defeat at Stamford Bridge.
Her dancer boyfriend Brahim Zaibat, 24, didn't get kitted up, but when it comes to being a fan Madonna is in a different league.
Her ex-husband, film director Guy Ritchie, was a massive Blues supporter - and she's even been on owner Roman Abramovich's yacht.
Source: The Sun ShowbizBizarre.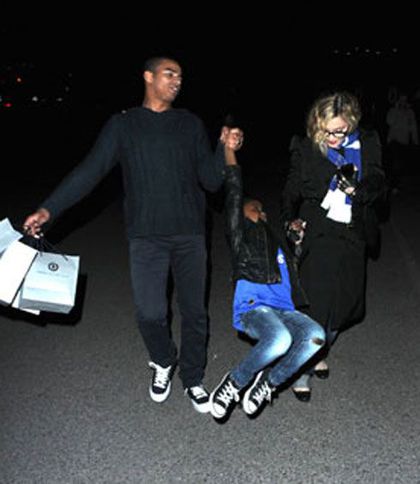 After match ... Madonna with David and Brahim.