Madonna back to her '80s style from ''Open Your Heart'' video
Madonna de retour à son style des années 80 de la vidéo "Open Your Heart".

Madonna's wear & tear
By SHEILA MCCLEAR
Last Updated: 4:32 AM, April 27, 2011
Posted: 1:13 AM, April 27, 2011
You're wearing less material, girl!
Madonna proved she's "True Blue" sporting shredded denim on the streets of Midtown. The pop icon looked more hobo than hottie Monday in her down-and-out get- up, which included a tar tan top, shades, and a hat that hearkened back to her '80s heyday.
But this look doesn't come cheap -- her sliced jeans, a style called the "Ripper" by Members Only, cost $198.
The singer, 52, may be trying to get in the groove with her 14-year-old daughter, Lourdes, who favors tattered denim and grunge-glam tops. Or she could be taking after another teen, Taylor Momsen of "Gossip Girl," who was seen wearing the same jeans in 2009.
Source: NYPOST.

Hats off: Madonna recycles her image and harks back to her Eighties style on classic Open Your Heart video with a hat
By Jody Thompson
Last updated at 1:10 PM on 26th April 2011
She's been a fashion trendsetter all her life - and it seems that Madonna has taken to following her own lead and re-visiting her favourite looks if her latest outfit is anything to go by.
The star was spotted out and about in New York last night wearing a hat that brought to mind her outfit at the end of the video for her 1986 classic hit Open Your Heart.
The 52-year-old singer had teamed her black trilby with a black leather jacket, ripped jeans and a checked shirt, which all seemed to hark back to the Eighties.
Perhaps it was being back in New York that sparked her nostalgia, seeing as she was living in the Big Apple when she hit the big time.
Released in November 1986, Open Your Heart was the fourth single from her True Blue album.
At the start of the promo, a 28-year-old Madonna plays an exotic dancer wearing a silk black basque with what would become her trademark conical bra with golden nipple tassels in a peep show club.
In circumstances not made clear in the promo, she befriends a little boy backstage - played by child actor and model Felix Howard, who was just 13 at the time.
At the end of the story, she escapes from the club with the boy looking androgynous, and like him, wearing a baggy grey suit and black trilby.
They then literally skip off into the sunset in a picture of innocence.
It was Madonna's fifth No. 1 on the U.S. Billboard hot 100 chart and a No. 4 hit in the UK.
In the 21st Century however, Madonna is busy putting the finishing touches to her movie W.E. and it's thought she was having meetings at NBC's New York studios about the film.
Starring Abbie Cornish, Oscar Isaac and Andrea Riseborough, it's a two-tiered romance based around the affair between King Edward VIII and American divorcée Wallis Simpson mixed with a contemporary romance between a married woman and a Russian security guard.
Shooting has finished and the movie is currently in post-production and though no release date has been confirmed yet, it's expected out before the end of the year.
Source: Mail Online.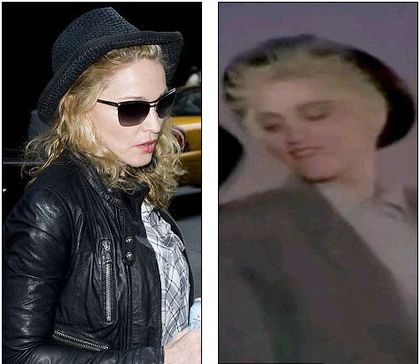 Madonna was spotted in New York last night wearing a hat similar to the one she wore in the Open Your Heart video.