Madonna borrows a dress from a museum for her film ''W.E.''
Madonna emprunte une robe à un musée pour son film "W.E.".

Why Madonna wanted to borrow a dress from a Scots museum
Madonna gets help from a Scottish museum with a costume for her film about Edward VIII's wife Wallis Simpson.
BBC News - Jul 08 04:50am
Madonna film seeks museum help for Wallis Simpson film
Page last updated at 11:30 GMT, Thursday, 8 July 2010 12:30 UK
A wedding outfit on show at a Scottish museum is to take a starring role in a film being directed by Madonna.
She has asked for the dress for her directorial feature debut, W.E., about Edward VIII's wife Wallis Simpson.
The outfit is currently part of a Marriage in the Movies exhibition at the National Museum of Costume at Shambellie House near Dumfries.
The dress was worn by Joely Richardson, who starred in the 2005 television production Wallis and Edward.
The outfit was designed by Michael O'Connor and will be worn by actress Andrea Riseborough, who will play Wallis Simpson in the film co-written by Madonna.
National Museums Scotland has agreed to release the dress, which had been due to remain on display until October this year.
It will be sent to the film set on Monday.
'Fabulous gowns'
National Museum of Costume general manager Margaret Roberts said they had been happy to send the dress to Madonna.
"Our Marriage in the Movies exhibition is packed with fabulous gowns that tell a story not only about the history of the period they represent, but also of Hollywood glamour and style," she said.
"This is a dress that was made for the movies, so when we received the request from Madonna's production company, we were only too happy to oblige."
Marriage in the Movies runs until 31 October.
Source: BBC News.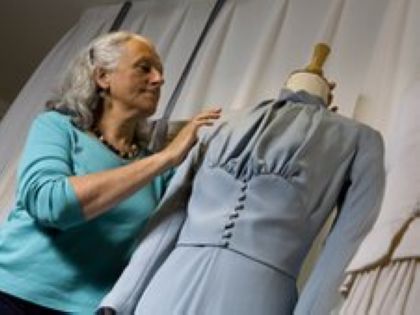 The dress will remain on show until Monday before heading to the film set.