Madonna celebrates designer Valentino in honor of the DVD release ''Valentino: The Last Emperor''
Madonna fête le designer Valentino en l'honneur de la sortie du DVD "Valentino: Le Dernier Empereur".

Viva Valentino!
by Jacob Bernstein
November 4, 2009 | 7:51am
Madonna, Hugh Jackman, Adrien Brody, and other stars came out to celebrate the legendary designer in honor of the DVD release of Valentino: The Last Emperor.
It was a night for American fashion royalty and a stylish assortment of stars as Madonna, Hugh Jackman, Martha Stewart, Adrien Brody, Marc Jacobs, Tory Burch, Narciso Rodriguez, and Charlie Rose all turned up at New York's Standard Hotel Tuesday night to celebrate the DVD release of Valentino: The Last Emperor, the acclaimed documentary from Vanity Fair contributing editor Matt Tyrnauer.
This was the second party in a week for Valentino Garavani, who retired from his eponymous fashion house last year (the previous one was hosted by Gwyneth Paltrow), but that didn't stop anyone from coming out. One reason—the guest DJ was Jesus Luz, otherwise known as Madonna's current paramour. He took to the decks around 10 p.m., and spun a set that was beat-matched to perfection, even if some wondered, "where's the hip-hop?"
"I'm more into electro-house," Luz shrugged.
His girlfriend, meanwhile, commanded the dance floor with several men, her hair perfectly straight, her skin looking as preternaturally Madonna-perfect as ever.
For the record, Luz didn't play any of her music. "Sometimes I'll play something by her," he said. "But she's here tonight and she hears her own stuff almost every day."
Jacob Bernstein is a senior reporter at The Daily Beast. Previously, he was a features writer at WWD and W Magazine. He has also written for New York magazine, Paper, and The Huffington Post.
Source: The Daily Beast.

Madonna has a nightly grind
Last Updated: 2:29 AM, November 5, 2009
Posted: 12:33 AM, November 5, 2009
Madonna is prepared to grind hard to promote man-candy Jesus Luz's career. The pop superstar showed up to catch the tail end of her boyfriend's DJ gig at the DVD release party of Matt Tyrnauer's "Valentino: The Last Emperor" on the 18th floor of the Standard Hotel. "She was grinding with a bunch of hot fashion guys while Luz spun," says a spy. "She's been taking a more active role in promoting him, so she stuck around for a bit and mingled before they left together (right)." Madonna has already given her Brazilian boy-toy's modeling ca reer a push, helping him land a juicy contract with Dolce & Gabbana, although her rep insists she's "not at all involved in managing the career of Jesus Luz." Also in attendance were Adrian Brody, Charlie Rose, Diane von Furstenberg, Martha Stewart, Marc Jacobs, Katie Lee -- who was overheard discussing her new book of recipes in the elevator -- and Brian Grazer and his former "culture czar" Brad Grossman.
Source: New York Post.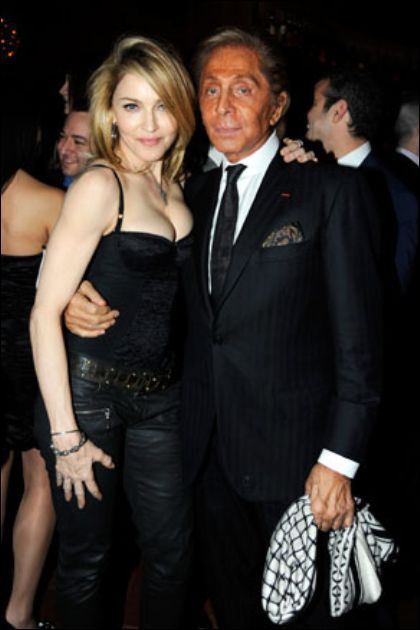 Madonna and Valentino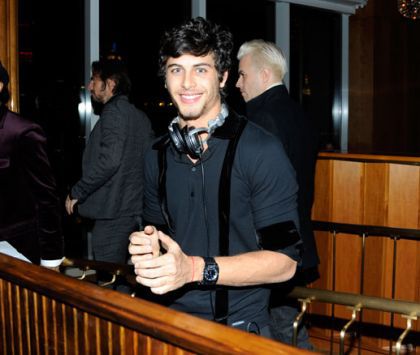 Jesus Luz

Photos: Joe Schildhorn / PatrickMcMullan.com.