Madonna congratulates Turkish director Ozpetek at LA Film Festival
Madonna félicite le réalisateur turc Ferzan Ozpetek au Festival du Film de LA.

Madonna and Travolta congratulate Turkish director
Sunday, June 6, 2010
MADRID - Anatolia News Agency
Well-known American stars including Madonna, John Travolta and Andy Garcia have congratulated a Turkish filmmaker on the movie he showed June 4 at the opening of the Los Angeles Film Festival.
A statement by Ferzan Özpetek's press office in Italy said the celebrities were among those who congratulated the director on his movie "Mine Vaganti" (Loose Cannons). Several Hollywood figures also attended a reception in honor of Özpetek in Los Angeles.
Özpetek, a Turkish film director and screenwriter residing in Italy, said he was really excited about this new experience.
Born in Istanbul in 1959, Özpetek moved to Italy in 1977 to study at the La Sapienza University in Rome. He attended directing courses at the Accademia d'Arte Drammatica "Silvio D'Amico" and worked as an assistant director with Massimo Troisi, Maurizio Ponzi and other Italian directors.
Özpetek made his directorial debut in 1997 with the movie "Hamam" (also released as "Il Bagno Turco" and "Steam: The Turkish Bath"), which garnered considerable critical success. His second film, "Harem Suare," was a lyrical depiction of the last days of the Ottoman Empire.
The director's other movies are "The Ignorant Fairies" (Le Fate Ignoranti, 2001), "Facing Windows" (La Finestra di Fronte, 2003), "Cuore Sacro" (Sacred Heart, 2005), "Saturno Contro" (Saturn in Opposition, 2007) and "Un Giorno Perfetto" (A Perfect Day, 2008).
Source: Hurriyet Daily News and Economic Review.
Screening Room: Dances With Films Festival at Laemmle's Sunset 5
Also screening at local theaters: LACMA's 'Sympathy for the Devil: The Magick Cinema of Donald Cammell,' 'Ferzan Ozpetek: A Retrospective' at the Billy Wilder Theatre.
June 03, 2010|By Susan King, Los Angeles Times
The 13th annual Dances With Films Festival, which describes itself as the only film festival in the country "solely geared" to unknowns, boogies into Laemmle's Sunset 5 on Thursday and continues through June 10. About 100 films, including features, shorts, documentaries and music videos from around the world will screen, with nearly three-quarters of the films having their world or West Coast premieres (www.danceswithfilms.com).
In retrospect
LACMA's latest screening series, "Sympathy for the Devil: The Magick Cinema of Donald Cammell," features the four films made by the Scottish director who began his career as a painter and illustrator, moved on to writing screenplays and then took up the director's reins alongside Nicolas Roeg for 1970's seminal "Performance." However, Cammell subsequently struggled to get films made and committed suicide in 1996 at 62, a year after his "Wild Side" was taken out of his control, recut and sent off to cable.
The retrospective opens Friday with "Performance," which was inspired by the exploits of the infamous East End mobsters Ronald and Reginald Kray. In it, James Fox plays a ruthless gangster who decides to hide out in the mansion of a hermetic, mystic hippie ( Mick Jagger). The film was rated X when released. Also screening Friday is 1987's "White of the Eye," a thriller starring David Keith and Cathy Moriarty.
The director's cut of "Wild Side," starring Christopher Walken and Anne Heche, is on tap for Saturday. Cammell's wife and co-writer China Kong and editor Frank Mazzola (who appeared in "Rebel Without a Cause") reconstructed the original edit and will appear at the event in conversation with critic F.X. Feeney. Rounding out the evening is the director's spooky 1977 thriller "Demon Seed," starring Julie Christie as an unhappy wife of a scientist. http://www.lacma.org
Italian-flavored
UCLA Film and TV Archive, Cinecitta Luce and the Italian Cultural Institute of Los Angeles have combined forces to present "Ferzan Ozpetek: A Retrospective," a tribute to the Turkish-born director who makes films in Italy. The festival opens Friday at the Billy Wilder Theatre with his latest film, "Loose Cannons," a comedy about provincial family life. Saturday's offerings are 2001's "His Secret Life" and 1999's "Last Harem," with 2007's "Saturn in Opposition," scheduled for Sunday. Ozpetek will attend all three days. His 2008 film, "A Perfect Day," screens Tuesday at the Italian Cultural Institute. "Facing Windows," from 2003, is set for the Wilder on Wednesday. The series continues through June 12. http://www.cinema.ucla.edu
Source: Los Angeles Times.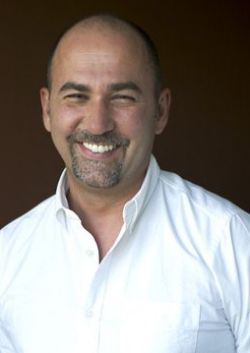 Turkish director Ferzan Ozpetek