Madonna disapproves of Lourdes' style
Madonna désapprouve le style de Lourdes.
Posted by Dan Cleeve on 31/03/2010
Pop legend Madonna has admitted she doesn't always approve of her daughter's dress sense.
Madonna has revealed she wishes 13-year-old daughter Lourdes would dress more conservatively. However, the pop star has admitted she wouldn't dream of telling her daughter how to dress. "If anything, I wish she'd dress more conservatively. How's that for irony?" Madonna told Us Weekly magazine, before explaining where Lourdes gets her style tips. "[She's] inspired by kids she sees in hip-hop and ballet classes, European influences, bands she listens to. You could say it's in the DNA - but I could never tell her how to dress! She also comes to my photo and video shoots, pulls outfits together and gives her input to a lot of my fashion-designer friends. Whether it's Marc Jacobs or Stella McCartney, they always ask her what she thinks."
Source: handbag.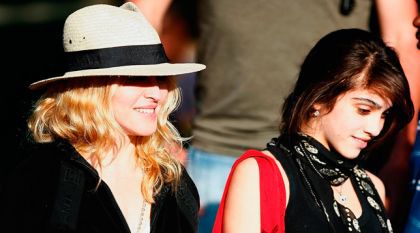 Madonna and Lourdes
Can You Believe Madonna Wishes Daughter Lourdes Would Dress Conservatively?
Thursday, April 01, 2010
Geraldine Jeremiah blogged at 2:43:57 PM
Madonna made the Pope's hate list for her risqué stage antics, she also made the 'cone bra' famous and when it comes to S.E.X she left little to imagination. Madonna has pulled off some of showbiz's more scandalous and outrageous stunts in the past. But, when it comes to daughter Lourdes, the singer who sometimes wears next to nothing on stage, wishes that Lourdes would dress more conservatively! How's that's for irony?
In published reports Madonna revealed that Lourdes was her inspiration to venture into the teen clothing marketing. The two have apparently teamed up to create Material Girl for Macy's.
The collection is heavily influenced by Lourdes and her cool eclectic style, and according to Madonna her daughter deserves much of the credit on this line. "I've been involved in business meetings, but Lola's really doing the work. I just sit in the corner on my BlackBerry!" she reportedly said.
Source: Galaxie.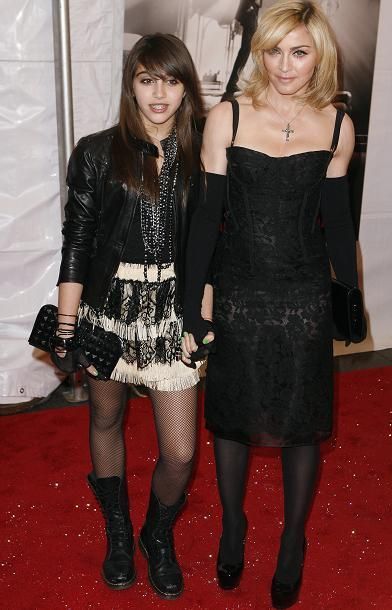 Madonna now understands what other mothers went through.