Madonna Donates Boots To LaGuardia High School Auction
Madonna donne des bottes aux enchères de LaGuardia High School.

May 4, 2011 8:46pm
The celeb-heavy alumni list at LaGuardia High School makes for a Fame-centric school auction.
By Leslie Albrecht
DNAinfo Reporter/Producer
UPPER WEST SIDE — An Upper West Side school is selling the chance to walk in Madonna's shoes — and a shot at immortality.
The Fiorello H. LaGuardia High School of Music & Art and Performing Arts, better known as the "Fame" high school, is auctioning off a pair of boots once worn by Madonna as part of its annual school fundraiser.
Madonna's daughter, Lourdes, is a student in LaGuardia's drama department. The mega-star donated the white thigh-high Chanel boots to the auction.
"We're hoping to get a lot a money for those boots," said principal Kim Bruno. "We're so indebted to her. The auction raises money that we desperately need."
Madonna's used footwear isn't the only brush with fame on the list of auction items. With an alumni roster that reads like a Hollywood Hall of Fame, LaGuardia's auction offers a number of celeb-centric items, said parent Jane Rosen, the school's live auction chair.
Novelist Jonathan Lethem, also a LaGuardia graduate, is selling off what's billed as "immortality" — the chance to become a character in his next novel. The winning bidder will see their name appear in Lethem's next work, though the author gets to decide whether the character will be the hero or a minor player.
Lethem, the author of "Motherless Brooklyn," reportedly attended LaGuardia to follow in his painter father's footsteps, but ended up starting his writing career there, publishing his own zine and writing a 125-page unpublished novel.
Adrien Grenier, the actor alum who made it big on the HBO show "Entourage," donated two packages.
One is a three-hour acting workshop with Grenier and his LaGuardia acting teacher, Harry Shifman. The other is a three-night stay at the Hollywood Roosevelt Hotel, lunch with Grenier at his favorite Los Angeles restaurant, Little Dom's, and tickets to the "Late Late Show With Craig Ferguson."
Celebrity designer Isaac Mizrahi, a 1980 LaGuardia alum, donated a behind-the-scenes tour of his studio. Alum Paul Stanley, a 1970 graduate who went on to front the band KISS, donated signed KISS memorabilia.
LaGuardia's auction raised $140,000 last year and organizers hope this year's will top $200,000, Rosen said.
The money goes to shore up programs that have been slashed by citywide school budget cuts.
"The budget cuts have been horrendous," Rosen said. "(The auction) helps make up for a host of things — the college office, the music department, the dance department, piano tuning, anything that's needed."
LaGuardia's live and silent auction is scheduled for 6 p.m. Saturday, May 7 at the school, 100 Amsterdam Avenue at West 65th Street. Alum Peter Yarrow of Peter, Paul and Mary, will perform.
Source: DNAinfo.

At LaGuardia High School, Madonna's Boots Replace The Bake Sale
By Jen Carlson in Arts and Events on May 4, 2011 5:11 PM
Forget bake sales (they're illegal anyway), when you've got Madonna as a mom you can raise funds for your school in a much more fashionable (and low-calorie) way: by raiding her closet! Madonna has donated a pair of her Chanel boots to her daughter Lourdes's school, the LaGuardia Arts High School in Manhattan. They'll become part of an annual auction to raise money, joining about 100 other items (including a private "sex therapy session"—donated by someone's parent? Embarrassing!).
The starting bid on Madonna's boots is $1,000, and the auction ends on May 12th. All proceeds go directly to programs and materials for the students. One day, if she can reproduce, Lady Gaga is going to make a high school a lot of money.
Source: Gothamist.

Madonna donates Chanel boots to LaGuardia Arts High School auction: Daughter Lourdes is a student
BY David Hinckley
DAILY NEWS STAFF WRITER
Wednesday, May 4th 2011, 10:43 AM
These boots are made for auctioning.
To help soften the impact of budget cuts at LaGuardia Arts High School, where her daughter Lourdes is a student, Madonna has donated a pair of signed Chanel boots for the annual online auction that starts tomorrow.
Hundreds of other items are available in the auction, ranging from a theater tickers to a tour of Tommy Hilfiger headquarters to sailing in the Hamptons and a one-hour private "sex therapy session."
Most of these can be viewed at www.laguardiahs.org/auction.
The boots by themselves will be auctioned Thursday at www.gottahaverockandroll.com.
The auction runs for a week and also includes an "Auction Gala" at the school on Saturday night with a performance by Peter Yarrow of Peter, Paul and Mary.
Like other city schools, LaGuardia has been socked with budget cuts it says have topped $2.6 million over the last two years.
One of nine specialized high schools in the city system, LaGuardia's alumni include Jennifer Aniston, Liza Minnelli and Adrian Grenier.
Source: NY Daily News.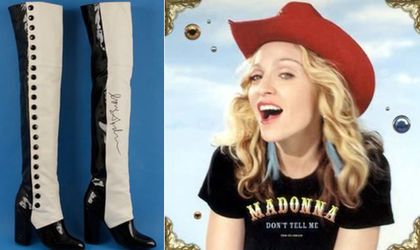 Photo of the Chanel boots via Gotta Have Rock & Roll.