Madonna expresses that she is 'there for' Demi Moore
Madonna dit qu'elle est 'là pour' Demi Moore.
Madonna expresses that she is 'there for' gal-pal Demi Moore
1/26/2012
Sarah Burbank
Madonna has come forward to show her support for recently hospitalized gal-pal, Demi Moore.
According to E! Online, Madonna called the hospital to tell Demi that "she was there if she needs anything." A source of the online sites informs that prior to Moore's hospitalization, she had begun to make plans to attend the Super Bowl to watch Madonna's half time performance. Moore allegedly opted out when she assumed soon-to-be ex-husband, Ashton Kutcher, would also be there.
Despite her rep confirming that the actress is in the hospital for "exhaustion," rumors continue to run rapid proclaiming every reason from seizures to TMZ's allegations that the actress was taking "whip-it" shots, which then sent her into the seizure. A 'whip-it' is explained as inhaling nitrous oxide in order to get high.
A source tells US Magazine, that the actress has "spiraled" and that she has "gotten to a place where she is struggling too much to function."
Sources continue to come forward offering their own insight now that Moore is upon her 50th birthday. "Her life is completely in crisis…She is turning 50 and has no idea who she is or what her focus should be." To add insult to injury in Moore's emotional time, Extra notes that her estranged ex calls her when he is having a "low moment."
Extra notes that insider told the New York Post, "Ashton has been very sloppy about his private life. He goes between doing ridiculous things and then making overtures to Demi. She took her marriage very seriously, she gave it 100 percent, and his behavior is confusing her."

From E! Online:

EXCLUSIVE
Madonna Reaches Out to Demi Moore After Hospitalization
26/1/2012 - 8:11 by Marc Malkin
Madonna wants Demi Moore to know she's there for her.
A source tells me that Madge contacted Moore shortly after hearing the news of her hospitalization...
I'm told that the singer called Moore, and the conversation apparently wasn't very long. "Madonna told Demi she was there if she needs anything," my source said.
Although Madonna and Moore aren't usually in regular contact, "they're pretty tight," the source said.
The two most recently hung out at CAA's pre-Golden Globes party at Soho House, where they spent most of the night chatting with each other. Ashton Kutcher also attended the bash, but the closest he came to Moore was talking to her daughter Rumer Willis.
I'm also told that before this week's ordeal, Moore was thinking about going to the Super Bowl to see Madonna's halftime show, but wasn't sure because she assumed Kutcher would also be there. Moore and Kutcher attended last year's game in Dallas, as well as some of the festivities throughout the weekend.
No word yet on the status of the annual post-Oscar party Moore cohosts with Madonna and her manager, Guy Oseary.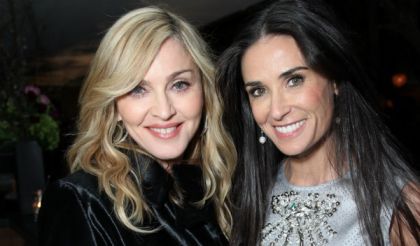 Madonna and Demi Moore at CAA's pre-Golden Globes party at Soho House.