Madonna Fans' Charity for Raising Malawi
La charité des fans de Madonna pour Raising Malawi.

Name change Madonna fans plan new venture
Published Date: 01 February 2010
Last Updated: 01 February 2010 11:37 AM
Source: n/a
Location: Leeds
They changed their names in honour of their idol.
And now three Madonna superfans from Leeds are hoping their new fundraising venture will work Like A Prayer and raise lots of money for the star's favourite African charity.
And this time they are hoping a bit of help from another music legend, Michael Jackson, will make the night a real Thriller.
Gemma Mitchell and twins Lianne and Emma Dawson – also known by their Material Girl-inspired monikers – are holding a themed charity night in honour of the official King and Queen of pop to raise money for Raising Malawi.
The charity is supported by Madonna, whose adopted son David Banda was born in Malawi.
Gemma said: "Raising Malawi is such an amazing charity and as we are such huge Madonna fans we really wanted to do something to support it. We are looking forward to paying tribute to them both and raising lots of money for the charity."
Gemma, Lianne and Emma, all 23 and from Wortley, are former pupils of West Leeds High School, and appeared in the pages of the YEP last year when they all changed their names in homage to Madonna.
Twins Lianne and Emma are now officially called Lianne Madonna Vogue On The Cover Of A Magazine McHale Dawson, and Emma Madonna Confessions On A Dance Floor McHale Dawson.
And their best friend ditched plain old Gemma Mitchell in favour of Gemma Madonna True Blue Strike A Pose Carroll McHale Dawson Me Me Mitchell.
Performers at the fundraiser will include professional Michael Jackson impersonators from the MJ Fusion Dance Company, who recently appeared on the Move Like Michael Jackson TV show.
The fundraising pop party, called A Royal Night with Music from the King and Queen of Pop, will be held at the Elbow Room in Leeds on Thursday. Tickets are £4 on the door.
Source: Yorkshire Evening Post.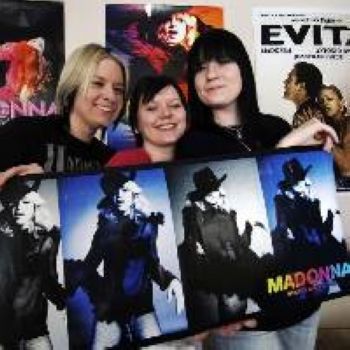 SUPERFANS: From left, Lianne Dawson, Gemma Mitchell and Emma Dawson.