Madonna favorite Oprah moment was teaching her how to dance
Le moment favori de Madonna avec Oprah était de lui apprendre à danser.

Inside Oprah's star-studded farewell
May 18th, 2011
10:00 AMET
Post by: CNN's Megan Thomas
More than 150,000 "Oprah Winfrey Show" fans wanted to get in to the talk show host's star-studded spectacular last night, but just 20,000 fans made it.
The lucky ticket holders for tapings of two of Oprah Winfrey's final shows lined up outside Chicago's United Center Tuesday afternoon - anxious to escape a strong spring wind and eager to see what had been billed as an all-star farewell to the Queen of Talk.
As the tapings started, Winfrey walked on stage to thunderous applause from her most fired up fans. Winfrey has frequently stated she's not fond of surprises, but she allowed her production team to make an exception for this party. The first surprise guest? Tom Hanks.
The Oscar winning actor and frequent "Oprah" show guest played the role of Winfrey's guide through the night's events. Winfrey had tears in her eyes as she took in the scene - an arena lined with giant photographs of memorable "Oprah Winfrey Show" moments through the years, and thousands of adoring admirers on their feet.
Backstage, "Oprah" producers and publicists juggled teams of journalists and A-list guests. Celebrities from music, movies and TV - ranging from Beyonce and Madonna to Tom Cruise and Diane Sawyer - all came out to send Winfrey off in spectacular style.
Madonna recalled to CNN that Winfrey taught her to fight for her beliefs and says her favorite "Oprah" moment was teaching the host how to dance.
Winfrey turned the night's praise back to the audience and thanked her fans for all the love and for making 25 years of the "Oprah Winfrey Show" possible.
Winfrey's surprise spectacular will air in two parts on Monday, May 23 and Tuesday, May 24. The final "Oprah Winfrey Show" will broadcast May 25. Winfrey is reportedly producing the goodbye show herself and is keeping her plans secret for now – leaving her fans with one last surprise.
Source: The Marquee Blog - CNN.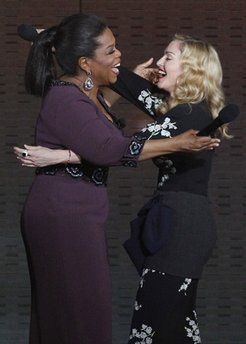 Oprah and Madonna at Oprah Winfrey's Final Show - May 17, 2011.