Madonna: ''I like being Tom Munro's Muse''
Madonna: "J'aime être la Muse de Tom Munro".

Madonna Plays the Muse
March 7, 2010, 4:45 pm
By PAULA SCHWARTZ
LOS ANGELES— "Collaboration. I like being his muse," Madonna told us, explaining her relationship with photographer Tom Munro at a private party and opening last night, to celebrate the photographer's first book, a collection of celebrity portraits. (Partial proceeds of of the book will go to Madonna's charity, Raising Malawi, and M.E.A.K.) Madonna, wearing black fishnet stockings, leather skirt and dark sunglasses at 10 p.m. in a dark room, blew off the Weinstein Company party at Soho House and the Summit Entertainment reception for "The Hurt Locker" at the Mondrian, for the gallery opening, where she spent most of the time on the lap of Steven Klein, another celebrity fashion photographer.
The party was underwritten by Moët & Chandon – the official champagne of the Oscars, a publicist helpfully reminded us – and guests were sipping from miniature bottles of the stuff.
Justin Timberlake was skulking near the bar, wearing geeky glasses and a ski cap. A female bodyguard was standing next to him. "Tom's a very good friend of mine and I'm excited for him and it's a great cause so I came," Mr. Timberlake said. What was he doing Oscar night we asked? "I thought this was a sound bite for Tom," Mr. Timberlake said, which was the cue for his bodyguard to shoo us away.
Earlier in the evening, Mr. Munro escorted Dustin Hoffman around the gallery for a private tour of his very large photographs of Beyonce, Adrien Brody, Jude Law, Julianne Moore, Christina Ricci and a leering Quintin Tarantino.
"He shot me one day," Mr. Hoffman said, explaining how he met Mr. Munro, who said the session resulted in photographs for Italian Vogue.
So it was a fashion shoot? "I think anything I'm involved in they can't call it fashion," Mr. Hoffman said.
Did Mr. Hoffman have any Oscar predictions we asked? "Yes, I am not going to win anything," said the two-time Oscar winner.
He said he hadn't seen all of the nominated films but "the ones I did see fortunately were foreign films and I would love to see the day come when we don't differentiate."
"You can't say best if you haven't see the others," Mr. Hoffman replied when we pressed him for his Oscar picks. "I saw 'Hurt Locker. ' It's first rate as is 'A Prophet' and the Argentinian film." (That would be "The Secret in Their Eyes.")
As for Oscar parties, "I try to avoid them all," Mr. Hoffman said. He added that he would not be at the Oscars on Sunday. "We're staying home," he said, introducing his wife Lisa. "I get dressed up in a tuxedo and I have earphones plugged into the TV and then I turn the sound off and have a few friends over and I hold a card and I announce all the winners. "
Mr. Hoffman said Mr. Munro's name might be announced one day at the Oscars. "I don't know if he realizes that he's a director. He should be directing films, he really should."
Mr. Munro, who has directed a couple of videos with Madonna, said his dream was to move into the direction of feature films and he credited Madonna as "an inspiration. "
Mr. Munro then looked around the packed room from behind the V.I.P. roped-off area. "We were terrified that it is too ambitious having a show the night before the Oscars," he said. "I wasn't sure if anyone was going to turn up. They might have been getting their beauty sleep for tomorrow night. "
Source: Carpetbagger Blog - NYTimes.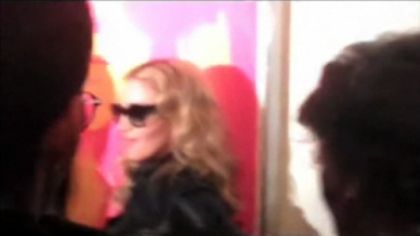 Madonna at Tom Munro's Exhibition of Celebrity Portraits in LA on March 6.