Madonna ''I'm Talking To You'' in next David Guetta album
"I'm Talking To You" de Madonna dans le prochain album de David Guetta.

David Guetta, Nicki Minaj y Flo Rida: Where Dem Girls At, nueva canción. Posible tracklist del nuevo disco
Escrita el 14 de marzo de 2011
Tras el trágico fin de semana, climatológicamente hablando, comenzamos este lunes echando la mirada atrás al pasado Carnaval de Salvador de Bahía en Brasil. El motivo es que acaba de aparecer en la red una captura de aquellos carnavales donde David Guetta pinchó el primer single de su próximo disco. Para esta ocasión, se ha hecho acompañar de Nicki Minaj y Who's That Chick con Rihanna o su remix para el nuevo tema de Snoop Dogg.
Sobre este Where Dem Girls At, a pesar de que se trata de una captura callejera, sonido ambiente incluido, se aprecia el copy-paste que se ha marcado en parte de la canción de su Sexy Bitch. A pesar de ello, contar con nombres como Flo Rida, con el que hizo bailar a medio mundo con su Club Can't Handle Me el año pasado, y el de la nueva sensación hip hop estadounidense Nicki Minaj, le aseguran el éxito. Por cierto, os adjunto un supuesto tracklist donde aparecen las posibles canciones y colaboradores de ese disco del que como se confirme sólo la mitad ya será absolutamente espectacular. Britney Spears, Katy Perry, Christina Aguilera, Ke$ha, Lady Gaga…
01. Club Injection (feat. Fergie)
(produced by Sandy Vee)
02. Jump (feat. Britney Spears)
(produced by Afrojack)
03. Red Eyed Monster (feat. Nicki Minaj)
(produced by will.i.am)
04. Miracle (David Guetta v.s. Armin van Buuren) (feat. Christina Aguilera)
(produced by the Armin van Buuren)
05. Deeper (feat. Ke$ha)
(produced by Billboard)
06. Candy Clouds (feat. Katy Perry)
(produced by Sandy Vee, Frédéric Riesterer)
07. Mixed Feelings (feat. Enrique Inglesias & Jennifer Lopez)
(produced by Redone)
08. Thunder & Rain (feat. Nicole Scherzinger)
(produced by Dave Aude, Frédéric Riesterer)
09. Bonjour (feat. Lady GaGa)
(produced by Redone & Sandy Vee)
10. Heart & Soul (feat. Rihanna)
(produced by Darkchild & Sandy Vee)
11. Party Drop (feat. Black Eyed Peas
(Produced by Afrojack)
12. You're Gone (feat. Akon)
(produced by RedOne)
13. I'm Talking To You (feat. Madonna)
(produced by Afrojack)
14. The Night (feat. Mohombi)
(produced by RedOne, Frédéric Riesterer)
Deluxe Edition:
15. Grave (feat. Natalia Kills)
(produced by will.i.am)
16. Hands Free (feat. Chris Willis & Fergie)
(produced by Sandy Vee)
17. Failure (feat. Kelly Rowland)
(produced by Frédéric Riesterer)
18. Gift (feat. Bruno Mars)
(produced by will.i.am & Afrojack)
Vía | www.aceshowbiz.com
Source: tubeletras.

Video: New Nicki Minaj-Featuring Song Debuted by David Guetta
March 14, 2011 03:14:03 GMT
The first single from David Guetta's forthcoming album, the new tune is a dance-floor filler titled 'Where Dem Girls At'.
Nicki Minaj has hooked up with David Guetta in a new song called "Where Dem Girls At". The Young Money femcee throws her lines through the pounding beat, "So many boys in here, where do I begin?/ I see this one, I'm about to go in."
The new track was debuted by the French DJ at the recent Carnaval of Salvador de Bahia in Brazil. "The first single of my new album," he reportedly told the crowd. Beside featuring Minaj, the song additionally has Flo Rida lending his vocal.
It's still unclear when Guetta will release the new CD, but rumor suggests it may arrive sometime in summer this year. So far, the disc jockey has hit studio with the likes of 50 Cent, Usher and will.i.am. Fiddy once tweeted, "This me and David Guetta in the studio we just made a big hit for his album suckers lol."
Source: Ace Showbiz.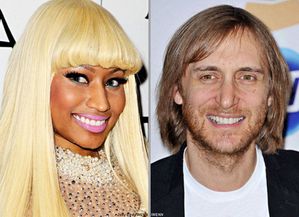 Nicki Minaj and David Guetta