Madonna impersonator Melissa Totten: ''There's nobody like Madonna''
Melissa Totten, sosie de Madonna: "Il n'y a personne comme Madonna".

Madonna: Uncensored and unreal
Lucky star talks impersonating gay icon and Lansing Pride performance
By Andrea Poteet
Originally printed 6/9/2011 (Issue 1923 - Between The Lines News)
"There's nobody like Madonna," Melissa Totten says. "I may be able to capture a moment, but no one can touch her."
Totten does not look like Madonna. She used to, she says, but not anymore. But despite her professed lack of likeness to the pop queen, the Virginia native has been striking a pose in Madge's image all over the world for nearly 20 years.
"I think I used to, quite naturally," she says of the resemblance, punched up for shows with makeup, costumes and a painted-on gap in her teeth. "But we have both changed."
As a marketing student in Chicago in the early '90s, Totten was one class shy of graduating from Columbia College, when one of her professors suggested an unorthodox project to help complete her degree - marketing herself as a Madonna impersonator. When she saw a news clip about a celebrity impersonator show that was in town, she called for an audition and found out it was taking place in her apartment building.
"I hopped on the elevator with some Russian Red on my lips, went to the top floor, and faked it," Totten says. "Sometimes you just have to follow the signs."
The impromptu audition landed her a six-month spot performing as Madonna on a Royal Caribbean cruise ship and launched her career, which has included stints in the Las Vegas production "Legends in Concert" and Germany's "Stars in Concert."
"Being in huge shows is great, but that is generally Elvis territory when I'm in a show with a variety of acts," Totten says. "He's like the meat on the sandwich, and I'm sort of like the lettuce. Or a pickle. I work hard there, and painstakingly design my costumes to a tee, but it was more or less just the handful of gay boys who would notice."
Now, she performs in mostly gay venues, promoting her two CDs, 2008's dance-heavy "Forever Madonna" and her latest, "Madonnalicious," chronicling some of the star's biggest hits and hidden gems.
"The response has been really incredible," she says of the gay clubs. "At first it was daunting, because gay folks are fiercely protective of their icons. But I think in the end, Madonna isn't gonna walk in and perform for you up close and personal, so people just take it for a bit of fun and entertainment when I walk into a club and perform."
Totten is particularly excited to perform in Madonna's home state, when she returns at 6 p.m. June 11 to perform at Michigan Pride (other performers include Dawn Robinson of En Vogue and native Detroiter Sista Otis). She last visited the area years ago as part of Detroit Madonnafest but hopes this performance goes better.
"A producer slapped an absolutely ghastly wig on my head, and I was pretty crappy. No, I was absolutely horrible. It was a joke," Totten says. "Hopefully there is no expiration date on redemption. Performing at Pride events can be the most energizing experience, even with jet lag. I hope everybody is up for it. I know I will be."
Totten never dreamed her life would include a uniform of cone bras and baggy suit pants; she just aimed to have an interesting life. So far, that's included more than a few cases of mistaken identity, like during a late '90s layover in Tahiti when a photo shoot on a beach led to a press battle to get photos of "Madonna" before she left the island. Unaware of the media maelstrom, Totten headed to the airport the next morning to continue onto the French island of New Caledonia.
"All I know is that when I arrived at the airport at around 6 a.m. the following morning it was an absolute mob scene," Totten says. "I asked the driver what was going on, and he said that they were all there for me. People from every direction were putting flower leis on me until I had no neck left. I was swatting bees away from my head. And camera flashes. When I showed my passport to security, he just laughed and shook his head."
On that same flight, Totten's resemblance to the superstar earned her upgrades from economy class to business class, and eventually to first class, before she was offered the ultimate plane seat.
"And then, ladies and gentlemen, they let me sit in the cockpit as we landed," she says. "They let me take pictures, and kept looking back at me, smiling and gesturing."
For her stage shows, Totten, who moved to England in 2008, said she doesn't keep up with every fashion move the icon makes, but tries to incorporate some of her favorite styles. Her current tour borrows some looks from Madonna's "Confessions Tour."
"Most Madonna drag queens get every single look together as it comes out to keep current," she says. "I don't keep a huge closet full of gear anymore, and I don't keep up with every look. I wait until something sticks. I live in England. Walk-in closets are just a blur of my American past."
Next, she hopes to condense a Las Vegas-style production into theater-style venues and record some more Madonna remixes with American and European DJs. A month-long tour based on Madonna's "Confessions" and "Sticky and Sweet" tours is also planned for Spain and Portugal in August. Her Lansing date is one of her few U.S. stops these days.
She said she doesn't want to tour as Madonna forever, but plans to keep up with her career until she wears out her welcome.
"After 20 years of doing this for a living, I can definitely imagine doing something else," Totten says. "I didn't think I'd be at this for very long, but the phone keeps ringing. I'll know when it's time."
'Madonna'
6 p.m. June 11
Michigan Pride
Burchard Park in Old Town
http://www.michiganpride.org
Source: PrideSource.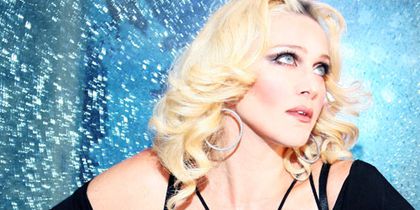 Melissa Totten