Madonna in Billboard's 10 Awesome Coachella Moments
Madonna dans les 10 Moments Géniaux de Coachella de Billboard.

10 Awesome Coachella Moments
by M. Tye Comer, N.Y. | April 14, 2011 6:00 EDT
On April 15, 80,000 sun-worshipping music fans will head out to the desert in Indio, Calif. for the start of the 12th Coachella Valley Music and Arts Festival. Kanye West, Arcade Fire and Kings of Leon headline the three-day event, while Duran Duran, The Strokes, Animal Collective, The Black Keys, Mumford & Sons, Robyn and just about every indie band and dance act that matters will keep the tunes going nonstop on the festival's five stages.
As we gear up for this year's three long, loud days on the Empire Polo Field, we look back at 10 of the most memorable moments from Coachella's past.
1- Radiohead's 'Creep'-y Request (2004)
2- Kanye West Crashes the Party (2006)
3- Arcade Fire Kills at Sunset (2005)
4- Madonna Rules the Dance Tent (2006)
5- Roger Waters' Pig Takes Flight (2008)
6- The Cure Can't Be Stopped (2009)
7- Prince Parties Like It's 1984 (2008)
8- The Pixies Sell Out (2004)
9- Daft Punk's Pyramid Lights Up the Night (2006)
10- Rage in the Desert (2007)
Madonna Rules the Dance Tent
(2006)
Coachella purists raised their eyebrows when organizers announced the addition on Madonna -- the most mainstream act the alt-rock-leaning event had ever booked -- as the Sahara dance tent's headlining act in 2006. But Madge proved that she belonged in the desert as she delivered a dynamic 30-minute set of club hits that had everybody but the Tool fans shaking their asses.
Source: Billboard.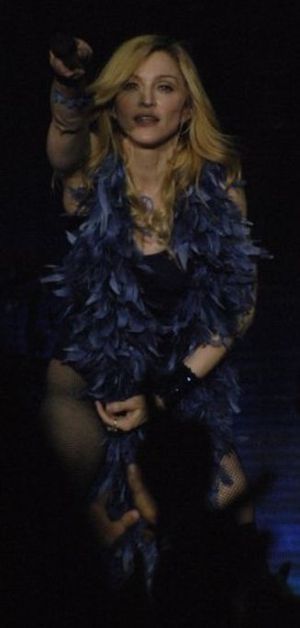 Madonna at Coachella Festival in 2006.