Madonna in Brazil on November 10 to support social projects and to meet Jesus Luz's parents
Madonna au Brésil le 10 novembre pour soutenir des projets sociaux et pour rencontrer les parents de Jesus Luz.

Madonna would travel to Brazil to meet her boyfriend's parents
Posted on 03 November 2009 at 14:21
Madonna may arrive in Brazil on November 10 to promote social projects and possibly to visit the family of her boyfriend, Brazilian male model Jesus Luz, whom she met last December during her tour of the South American country, local media reported Monday.
"Madonna has everything ready for her private trip to Brazil. The date is not confirmed yet but it seems to be on November 10," reported the radio network Bandeirantes.
The star has already started preparations in the United States to obtain a visit visa to "support social projects" similar to those she sponsored in Africa.
"It is as if Madonna wants to meet the family of Jesus Luz, with whom she has a romantic relationship," announced the station.
Madonna gave recitals in Rio de Janeiro and Sao Paulo last December when she began an affair with the young model Jesus Luz, 30 years younger than the pop star.
Moreover, the Brazilian press said that the government of Brasilia plans to hire Madonna for events conmemoratating the 50th anniversary of the capital city, in April 2010.
Source: Momento 24 (News from Argentina and the world).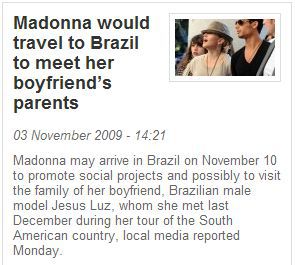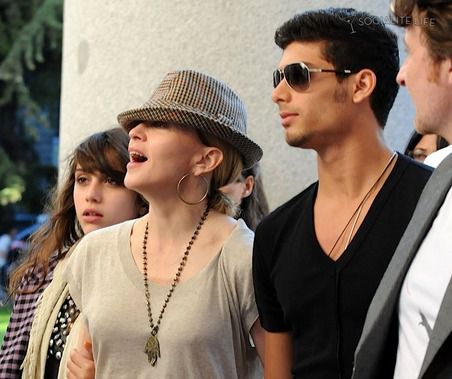 Lourdes, Madonna and Jesus Luz