Madonna in New York - January 27, 2012
Madonna à New York - 27 janvier 2012.
Riches to rags: Madonna looks a far cry from a millionairess in her scruffy ensemble
By Ann Pride
Last updated at 6:59 PM on 28th January 2012
She famously performed the hit song Vogue, but Madonna looked far from fashionable as she shuffled around New York in a scruffy ensemble today.
The singer-turned-director accompanied her children to a Kabbalah service yesterday in baggy black sweatpants, white trainers, a big black hat, a furry coat and several scarves.
The 53-year-old, who frequently takes to the stage in barely there designer gear, swung completely in the other direction as she covered up.
She topped off the outfit with a huge black hat pulled down over her eyes.
The Material mother was spotted with sons David and Rocco, who wore all white.
While her eldest daughter Lourdes dressed in blue jeans, a green jacket and black military style boots and youngest daughter Mercy looked cute in black jeans, a grey jacket and matching grey hat.
But it was Madonna's unusual outfit that made the family stand out.
The music legend's casual getup was a far cry from the fashion forward attire that she wore on Monday night to the New York première of her new film W.E.
She dressed in a dramatic sweeping velvet black and grey gown that hugged her fit figure to perfection.
The superstar accented the gown with a shroud like ruffled wrap that covered her muscular arms.
She topped off the look with a retro style Marcel wave which softened the look.
Madonna's next big public appearance will be on February 5, as she is scheduled to perform at half-time during the NFL Superbowl.
The mother-of-four has said she is very excited about singing during popular sporting event, which each year is the most widely viewed program on US television.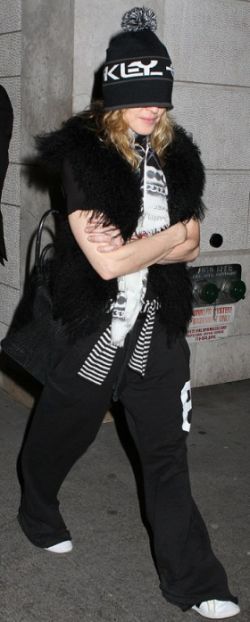 Not en Vogue: Madonna shuffled around New York on Friday attired in a very bizarre outfit.