Madonna jealous of Jacqui Ainsley, ex-husband Guy Ritchie's new love
Madonna jalouse de Jacqui Ainsley, le nouvel amour de son ex-mari Guy Ritchie.

Madonna plays jealous ex
Children reportedly share Ritchie's affection for model
July 14, 2010
BY BILL ZWECKER Sun-Times Columnist
Bill Zwecker reports on ''Good Day Chicago'' on WFLD-Channel 32.
You'd think a mega-superstar would have more confidence, but there's buzz Madonna is not too thrilled about ex-husband Guy Ritchie's lady love, model Jacqui Ainsley.
Ritchie, who only recently has gone public with his relationship with Ainsley, is said to be quite smitten with the 28-year-old beauty -- with one longtime Ritchie regular telling me, ''I wouldn't be surprised if he didn't marry her before year end.''
According to a source close to Madonna, the Material Mom -- busy directing ''W.E.,'' her film inspired by the affair of Britain's King Edward VIII and American divorcee Wallis Simpson -- is none too happy that her children have become so enamored of Ainsley.
Apparently that's not the case for Madonna's own boy toy, young Brazilian hunkster Jesus Luz. The mother of a good friend of Madonna's daughter Lourdes Leon says she ''finds Jesus obnoxious and very self-absorbed.''
Source: CHICAGO SUN-TIMES.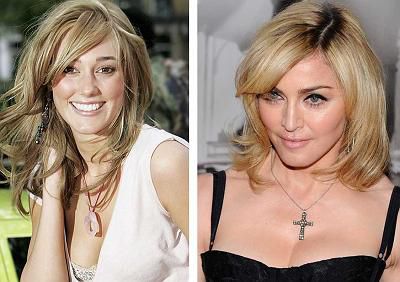 Jacqui Ainsley (left), seen in 2005, could become Mrs. Guy Ritchie in 2010, to the dismay of the filmmaker's ex-wife Madonna.
Photo: Getty Images/AP.