Madonna: Kabbalah Center Hires "Masters of Disaster" PR Firm
Madonna: Le Centre de la Cabbale engage un "Maître du Désastre".

Madonna: Kabbalah Center Hires "Masters of Disaster" PR Firm to Protect Image
03/25/11 5:42pm Roger Friedman
Madonna–or rather the Kabbalah Center of Los Angeles–has hired a killer pr firm to help protect her image now that the truth about Raising Malawi has come out. Chris Lehane, of Fabiani and Lehane, confirmed to me that the Kabbalah Center hired him and his parter Mark Fabiani. Sources tell me that Madonna has actually hired the firm, using the Kabbalah Center as a "front."
The pr pair has a nickname in the pr world– "Masters of Disaster." Their clients have included Goldman Sachs, Lance Armstrong (for his doping accusations), Bill Clinton and Al Gore. Fabiani is the clean up guy, who makes it all go away. And right now, Madonna and Kabbalah are in hot water.
Despite attempts today in the New York Times to throw former Raising Malawi chief Phillippe van den Boscche under the bus for financial scandals in the charity. Madonna still has a lot of explaining to do. As I wrote last summer, it was van den Bossche who was questioning where all of Raising Malawi's money was going.
Van den Boscche left Raising Malawi, and returned, and I wrote about it. Consequently, on September 15th, 2010 a law firm representing the Kabbalah Center claimed in a letter to this reporter that van den Bossche still worked for SFK and Raising Malawi and that there had been no issues over money. Really? The Times today says van den Bossche "left in October amid criticism of his management style and cost overruns for the school." So what's really going on? The Times also says that van den Bossche is the boyfriend of Madonna's trainer, Tracy Anderson. But sources tell me the couple has broken up for some time. "They did everything they could to isolate Phillippe," says a source. "Tracy went back to Madonna." More to come…
Source: Showbiz411.

Madonna's Rotten Charity: We Told You About This Last Year, and the Year Before
03/25/11 1:41am Roger Friedman
The New York Times now reports that Madonna's Kabbalah-front charity, Raising Malawi, is a financial mess. That's nice. I've written about this so many times my wrists are sprained. Last August twice, and several times before that in Showbiz411 and in my old column.
Let's review:
http://www.showbiz411.com/2010/08/04/madonna-did-her-religion-send-former-honcho-a-warning
— and here:
http://www.showbiz411.com/2010/07/26/madonnas-religion-has-warning-for-whistleblowers — and here:
http://www.showbiz411.com/2010/04/30/is-madonnas-new-spiritual-leader-named-muki
The facts are that Madonna and Raising Malawi have been involved in questionable activities for the last few years. Let's not forget that in February 2008, Madonna corralled a bunch of famous people to donate $3.7 million at a specious charity fundraiser including UNICEF. She convinced Gucci to start its own foundation to accept the money because Raising Malawi still did not have approval as a registered charity. She didn't just attend the event, as the Times says: it was hers from top to bottom. Read about it here, written by yours truly: http://www.foxnews.com/story/0,2933,321228,00.html
In today's New York Times story, reporter Adam Nagourney–a good reporter, but a little late to this game–may have been somewhat conned. He says the Kabbalah Center provided him with a report about mismanagement at Raising Malawi. The report conveniently blames– or scapegoats–Phillippe van den Bosche. Madonna and Michael Berg, son of Kabbalah Centre owners Philip and Karen Berg–escape notice. Yet, Raising Malawi was totally Michael Berg's project.
According to the most recent tax filing for Madonna's own Ray of Light Foundation, she donated $2.25 million to Raising Malawi in 2009, and another $200,000 to Spirituality for Kids, a Kabbalah Center subsidiary.
Right now, the most recent federal tax filing for Raising Malawi–year 2009– shows a charity in the red with only $505,000 in fund balances. It also shows almost $3 million in wire transfers for a school that was never built, and for unspecified "RM Trust." Where this money went, who sent it, and who got it, are issues that are unresolved.
This past winter, a cry went out from Malawi because Madonna had forced local people off their land in order to build her Oprah-like leadership academy for girls. Now the school plan is dead. The people have been moved for no reason. It's a disaster of the greatest magnitude: American celebrity goes to poor African country, scoops up two children, and leaves the place a mess.
Madonna and Raising Malawi have still not conceded defeat. On the group's website, the most recent statement comes from January 2011: "Madonna, whose Raising Malawi charity has made substantial inroads helping over a million children orphaned from the AIDS epidemic in that African nation, is stepping up the pace considerably on all fronts — especially in regard to her plans for building the Raising Malawi Academy for Girls."
More to come…
Source: Showbiz411.

Madonna: Did Kabbalah Send Former Honcho A Warning?
08/04/10 2:10am Roger Friedman
I told you a few days ago that Madonna's unusual pay as you go religion, the Kabbalah Center, added some ominous wording to its 2008 federal tax filing about "whistle blowers." The Kabbalah Center, and its offshoot charity Raising Malawi, stated Whistleblower policy was being developed for traitors.
Now sources in the Kabbalah Center world tell me that the "whistle blower" wording may have been a warning to former honcho Phillippe van den Bossche. They may be right.
Van den Bossche was a higher up in the Kabbalah/Raising Malawi system, earning around $133,000 a year on the books. But he gained notoriety last year when he suddenly quit to be with Tracy Anderson, Madonna's trainer, in New York. News of his resignation came in September 2009. The federal tax forms with the Whistleblower warning weren't submitted to the IRS until December.
What did van den Bossche know? According to sources, van den Bossche–on behalf of Madonna– tried to get a proper accounting for the Kabbalah Center's main charity, Spirituality for Kids or SFK (and this year mysteriously re-branded as Success for Kids). Ugly confrontations went back and forth between van den Bossche and SFK's accountant at the Kabbalah Center. In the end, millions of unreported dollars were said to have been discovered.
Interestingly, van den Bossche's resignation from Raising Malawi, Madonna's charity that she leads for Kabbalah, was rescinded. Van den Bossche now runs Madonna's end of it from New York, where he lives with Anderson. But he is gone from SFK and Kabbalah. "They're very afraid of him," says an insider of Kabbalah's leader Karen Berg, her adult sons, and her close aide de camp, Moshe "Muki" Oppenheimer. "He knows everything."
Source: Showbiz411.

Madonna's Religion Has Warning for "Whistleblowers"
07/26/10 4:16pm Roger Friedman
There it is, one of the the stranger things I've seen yet on a Federal tax filing for a religion.
On page 21 of the 2008-2009 Form 990 for the Research Center of Kabbalah, Madonna's chosen religion, here is a proviso you won't see so brazenly expressed anywhere else:
WRITTEN WHISTLE BLOWER AND DOCUMENT RETENTION AND DESTRUCTION POLICIES
The organization is in the process of developing written whistleblower and document retention and destruction policies which will be consistent with governance best practices and the organization's operating policies.
So what are these operating policies? It's not exactly common to see the word "whistleblower" associated with a real religion. But Kabbalah is a business, really, and religion second. They don't want their secrets known, or exposed. This one statement sums up so beautifully what's going on here. Kabbalah leader Karen Berg and her top adviser Muki Oppenheimer are said to be making changes that will take Kabbalah away from whatever roots it had.
The exact same thing is written on the Form 990 for Raising Malawi, the "charity" that's just a front for the Kabbalah Center. Not only does Raising Malawi carry a warning about whistle-blowing, it also lists all the Kabbalah Center organizations, including its massive real estate holding company, as its affiliated groups.
Source: Showbiz411.

Is Madonna's New Spiritual Leader Named Muki?
04/30/10 8:51am Roger Friedman
Madonna's new spiritual leader may be a man named Muki.
According to sources, Israeli Moshe "Muki" Oppenheimer–who does not speak English– has left his home in Efrat, a settlement in the West Bank, to globe-trot with Kabbalah Center leader Karen Berg in glitzier places like New York, Los Angeles, and even Brazil.
Five years ago, the 67 year old Berg was described in a British newspaper profile as seeming "lonely." http://tinyurl.com/3953n9c Her much older husband, Philip (they call him "the Rav") had had a devastating stroke. Karen had taken the reins of the worldwide, money hungry "religion" that sells red strings for $26 and books for learning at $500. She was operating the business– with millions in real estate holdings– with her two sons, Michael and Yehuda. She was spending her time buying expensive jewelry and getting plastic surgery.
But now I'm told that Karen may be lonely no more. According to several people I've spoken to who are quite conversant in the ways of the Kabbalah Center, Karen has become incredibly close to the mysterious "Muki." He has come to occupy a powerful new place in the Kabbalah world.
But Muki, an Israeli, is so under the radar it's unclear if even the group's celebs—like Madonna, Demi Moore, and Ashton Kutcher—know what's going on. When I asked for him at the Los Angeles office, I was told he had no phone extension. In New York, the receptionist said she didn't know who he was even though I'd been told he'd recently taught some kind of class there.
Oppenheimer, said to be in his late 40s, has gotten so powerful at Kabbalah that there are reports of him sitting in Rav Philip Berg's chair during religious readings. This is considered blasphemy by Kabbalah insiders.
The word in Kabbalah is that Karen Berg travels with Oppenheimer (first class, 'natch, as the Bergs may be worth north of $25 mil corporately) and that they are attached at the hip. Meanwhile, Philip Berg has basically been unseen since at least 2006 or earlier. "He's kept in the basement," says one former Kabbalah member facetiously. Oppenheimer, a source says, has a wife and "many children" back in Efrat.
Not much is known about Oppenheimer. According to a source who knew him in Israel, Muki was brought in to help run the centers in Israel, and then after meeting Karen Berg migrated to the United States. What is known is that he runs a motivational website called Ethika at www.ethika.co.il, which requires visitors to answer questions as they enter.
Some of the questions are: Do you think you know yourself? Do you think people around you know you? Is it important for you that the community around you recognize you?
When they're answered, Muki Oppenheimer writes back: Yes, I'd love to meet you, you're good, but still drop me a line.
More to come shortly on Kabbalah, which apparently has developed an inner upper echelon society somewhat akin to Scientology's Sea Org. People who are drafted into it are called "Hevre," and they see themselves as elite and chosen. They are also duty bound to Kabbalah and unable to leave at will without threat of reprisal. "You give your life to the Center," explained one former member unwilling to have her name published. "They control your life, and your money."
Lisa Kessler, spokesperson for Kabbalah, did not return a call or email for comment.
Source: Showbiz411.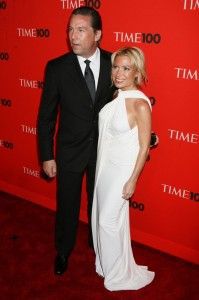 Phillippe Van den Bossche and Tracy Anderson