Madonna continue d'acheter.


17 December 2009 19:26
Pop superstar Madonna is delving back into the property market, just days after spending $10 million (£6.25 million) on a horse farm in New York - she's eyeing a $4.4 million (£2.75 million) house nearby for her stable hands to live in.
The Material Girl paid the eight figure sum for Wild Ocean Farm in the Hamptons, buying the 30 acres of land from designer Calvin Klein's wife Kelly.
There's no house on the farm and planning laws prohibit the star from building on the land - forcing her to look elsewhere for somewhere to house her staff.
According to the New York Post, Madonna has set her sights on a four bedroom farmhouse close by, which is currently owned by Michael Minkoff, a friend of the singer's pal Gwyneth Paltrow.
The 1930s building boasts four bedrooms, a pool, poolhouse and two barns - and comes with a $4.4 million pricetag.
Source: Contactmusic News.

Madonna eyes house for the help
Last Updated: 4:42 AM, December 17, 2009
Posted: 9:45 PM, December 16, 2009
Jennifer Gould Keil
Madonna may be getting closer to achieving her dream of becoming lady of the manor, in Bridgehampton horse country. Last week, we reported that the Material Mom is buying Kelly Klein's horse farm (450 Mitchells Lane) in a brokerless deal for less than $10 million, along with an adjacent horse farm at 10 Mitchells Lane. At the moment, the 50 or so acres are for horses only — no home can be built on the land.
But we hear that Madonna is eyeing a nearby house, at 549 Mitchells Lane, for her hired hands. It's on the market for $4.4 million and is listed by a broker who has represented Madonna pal Gwyneth Paltrow. The owner, architectural designer (and Gwynnie friend) Michael Minkoff, is known for buying East End fixer-uppers.
The 2-acre property, which abuts a reserve, is called Shady Maple Farm and includes a renovated 1930s farm house with four bedrooms, four bathrooms, a pool, pool house and two barns that could be used for entertaining or as dance studios.
Aerial shots of the home show Budget rent-a-trucks galore and a green Range Rover. However, the broker first denied a deal, then had no comment.
Source: NYPOST.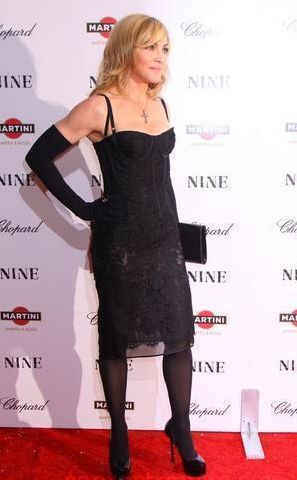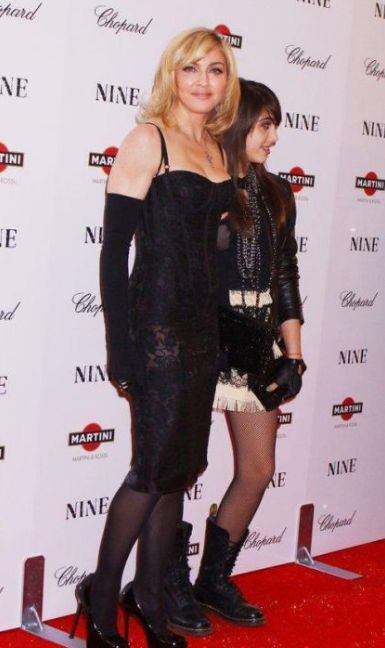 Madonna and daughter Lourdes.
New York premiere of 'Nine' sponsored by Chopard at the Ziegfeld Theatre. New York City, USA - 15.12.09.