Madonna - MDNA Tour: Abu Dhabi stage already built!

Madonna - MDNA Tour: La scène à Abu Dhabi déjà construite!
Madonna's concert in Abu Dhabi is on June 03, 2012 at du Arena, Yas Island.

From Think Flash Abu Dhabi on Facebook:
First glimpse of the new setup at du Arena for the Madonna concert next week.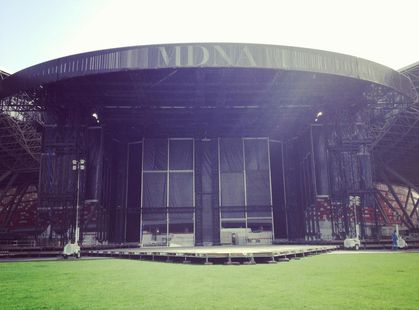 Full behind-the-scenes gallery from the epic setup at du Arena ready for the Queen of Pop to perform next week.

01- The Madonna stage is the biggest ever hosted at du Arena - in fact, it doesn't even fit underneath the roof of Ferrari World so sits further into the crowd than ever before.
02- This is the core setup of Madonna's stage. Overnight on June 1st all of the lighting, sound and video screens will be rigged to make what's set to be a spectacular show.
03- The public plaza area of du Arena is undergoing a complete renovation with a host of F&B outlets plus chill out areas.
04- The purpose-built Grandstand will be home to 3000 people for the Madonna concert.
05- The seats are being installed on the Grandstand to give those ticket holders a great view of the concert.
06- The view from the tip of the 'catwalk' area of the stage. On each concert night, Madonna will stand here and look out on 25,000 people.
07- Behind the stage is home to more than 40 cabins and tents to host the 1000+ people that are involved in the show. There's even a gym for the musicians to work out in!
08- The international crew are working night and day to ensure everything is ready for showtime on Sunday 3rd and Monday 4th June.
09- The du Arena lives in the shadow of the spectacular roof structure on Ferrari World.
10- In the plaza area at du Arena is a dedicated Meeting Point so you can find your friends before you enter the concert.
11- You'll have an amazing night at du Arena.
12- There's fresh grass laid within the du Arena to ensure everyone has a great space to dance to Madonna's music.
13- The du Arena dates are at the beginning of Madonna's MDNA World Tour.
14- At 23metres high and weighing in at over 70 tonnes, this stage means business. No wonder it's taken four 747 cargo planes to bring all the equipment to Abu Dhabi.