Madonna - MDNA Tour: Costumes Sketches

Madonna - MDNA Tour: Croquis des costumes.
A First Look At Madonna's Costumes
Singer gets set for her MDNA world tour, which kicks off Thursday in Tel Aviv.
May 30, 2012
Exclusive First Look at Madonna's Costumes
By David Lipke

Madonna is set to vogue her way around the world on her MDNA concert tour, which kicks off Thursday in Tel Aviv — and she's enlisted a cadre of designers to create an array of showstopping looks for the stage.
The Material Girl's parade of costume changes includes outfits from longtime collaborators Jean Paul Gaultier and Jeremy Scott, shoes from Prada and Miu Miu and pieces from Alexander Wang. Dolce & Gabbana made suits for the band and background vocalists, Fausto Puglisi created menacing bandolier vests and rams head masks for the backup dancers and even J Brand whipped up custom-made jeans.
Bras and panties — including one heart-shaped style from Madonna's new intimates line Truth or Dare — are incorporated into some numbers, as are shoes from the new Truth or Dare footwear line, at retail this fall. A somber, elegiac version of the usually peppy "Like a Virgin" will be sung by Madonna in an Agent Provocateur bra.
"It's a real journey from the first act to the fourth, and the way she constructs her shows is like a theater piece," said costume designer and stylist Arianne Phillips, who oversaw the entire wardrobe design for Madonna, her backup singers, musicians and 22 backup dancers. Scott, for his part, has been camped out in Tel Aviv this week, working till the last minute on some costumes.
The original Gaultier design is worn during the "Vogue" number and includes a white shirt, black tie, opera-length black gloves and a rigid skeleton corset. The getup references the iconic pink bustier-with-pin-striped suit look the designer created for Madonna's 1990 Blond Ambition world tour, widely considered a pinnacle of both of their careers.
"We played with the ideas of a suit and a corset. But the corset is now like a cage," explained Gaultier. "What I have done this time is a nod to the conical bra corset of the Blond Ambition tour but reinterpreted in 3-D, in patent leather on the outside with metallic leather on the inside. It's all about masculine and feminine, Madonna and Jean Paul Gaultier classics reinterpreted for 2012."
The designer and Phillips also re-created some archival Gaultier pieces for Madonna's dancers, as an homage to his long relationship with the iconic singer. Gaultier was also responsible for the kinky equestrian and "Saturday Night Fever"-inspired looks of Madonna's 2006 Confessions tour, and she once walked his runway with her nipples exposed.
"I love Madonna. She is the only woman I have asked to marry me. She refused, of course," added Gaultier. "But when she asked me to do a costume for her for this tour, I couldn't refuse."
Prada created high-heeled shoes for the male dancers in the gender-bending "Vogue" performance, which includes imagery of the Vogue magazine logo on massive video screens — similar to Madonna's Super Bowl performance of the song, which was viewed by 117 million people.
"This show is epic and bigger than anything she's done before. There are many more costume changes. We're taking 700 shoes on the road. Madonna changes outfits seven or eight times and the dancers change 10 to 15 times, depending on the dancer," said Phillips of the production, which includes multiple appearances on stage by two of Madonna's children, Lourdes and Rocco, in supporting roles.
Prada has supplied custom-made shoes for many of Madonna's previous tours, noted Phillips. "They have been generous for so many years. Her relationship with them is really special. Everything is specially made and they made some incredible high-heeled boots for the boys," she added.
Phillips, who has done the costumes for Madonna's four previous tours, designed a number of looks herself, delivering a wide range for her famously chameleonlike boss. The lineup veers from a forbidding Joan of Arc-inspired outfit fashioned from metal mesh and Swarovski Elements to a vernal, miniskirted majorette getup for the 53-year-old "Girl Gone Wild" singer.
"It's inspired by a 1940s majorette and I was looking for something playful and fun," explained Phillips.
Masks are a big component to many outfits, with dancers hiding their faces behind gargoyle and bunny guises. "The show explores the idea of stripping away layers of identity and discovering the layers of who you are," said Phillips. There's a menacing streak to some looks, with themes of violence explored in certain segments, which are accessorized with swords, guns, armor and holsters.
One designer missing from the MDNA tour roster is Givenchy's Riccardo Tisci, who designed the showboating Cleopatra-on-Mars outfit Madonna donned for her Super Bowl performance. Phillips attributed Tisci's absence from the collaborator list to scheduling conflicts.
Madonna herself was closely involved with the show's costume design, said Phillips, who was nominated for an Oscar for her work on Madonna's film "W.E." earlier this year. "This is her brainchild and her concept. We have a 15-year relationship and there's a rhythm to how we collaborate. She's very open-minded but she expects a lot," she explained. "She's always challenging herself and pushing herself constantly to learn new things and she pushes me further than I would myself. When you're on the world stage with her, you really have to bring your A game."
As for the media dustup this week when Madonna supposedly lobbed a grenade at Lady Gaga by mashing up her own "Express Yourself" with Lady Gaga's allegedly reductive "Born This Way" in rehearsals, it wasn't just a ploy for attention and it's part of the permanent show. At the end of the song, Madonna throws in the line "She's Not Me," from her recent song of the same name.
"Whether it's an homage or a smack in the face or just being funny, I don't know," said Liz Rosenberg, Madonna's spokeswoman. "People can decide what it means. Madonna isn't one to explain herself."
Madonna dévoile les costumes de sa tournée MDNA
Par Phalène de La Valette
Publié le 31/05/2012 à 17:19

La star a fait appel à de nombreux stylistes, parmi lesquels Jean Paul Gaultier, pour concevoir les tenues de ses concerts.
Madonna donne, ce jeudi à Tel Aviv, le coup d'envoi sa tournée mondiale, le MDNA tour. On sait désormais que la chanteuse interprétera 22 titres, notamment ses anciens tubes Like a prayer, Vogue ou Like a virgin. Outre l'événement musical, les concerts de la Madone sont un événement stylistique: pour cette tournée, la star portera des costumes imaginés par Jean Paul Gaultier, Jeremy Scott ou encore Alexander Wang, tandis que ses danseurs arboreront des tenues signées Dolce & Gabbanna ou Fausto Puglisi.
«J'adore Madonna. C'est la seule femme que j'ai demandée en mariage! (...) Quand elle m'a demandé de lui faire un costume pour cette tournée, je ne pouvais pas refuser», a expliqué Jean Paul Gaultier au site américain WWD. Auteur du célèbre bustier à pointes porté pour la première fois par Madonna en 1990, le créateur a spécialement revisité son oeuvre pour l'occasion: «Ce que j'ai fait cette fois est un clin d'oeil au corset iconique du Blond Ambition tour mais réinterprété en 3D, en cuir verni à l'extérieur et cuir métallique à l'intérieur. C'est du masculin et du féminin, les classiques de Madonna et Jean Paul Gaultier réinterprétés pour 2012.»
La styliste Arianne Phillips, qui supervise la garde-robe de Madonna, de ses choristes, de ses musiciens et de ses 22 danseurs, promet sur WWD un concert «épique et plus grandiose que tout ce que Madonna a fait avant.» La pop-star changera de costume sept à huit fois durant le spectacle, et ses danseurs jusqu'à 15 fois! 700 paires de chaussures ont été emportées pour la tournée. Beaucoup sont des pièces réalisées sur mesure par Prada. Madonna portera également des chaussures et des vêtements issus de sa ligne Truth or Dare, lancée en début d'année. Parmi les différentes tenues prévues, on trouve notamment un costume inspiré -dixit Phillips- de Jeanne d'Arc, et l'attirail de majorette déjà suggéré dans le clip Girl Gone Wild.
Après son concert en Israël, Madonna se rendra à Abu Dhabi puis à Istanbul avant de débarquer en Europe le 12 juin, à Rome. En France, elle doit se produire à Paris le 14 juillet au Stade de France. Outre ses nombreux tubes, tout semble indiquer que la chanteuse reprendra bel et bien le Born this way de Lady Gaga dans un medley avec Express Yourself, titre dont Gaga se serait copieusement inspiré. Hommage? Plaisanterie? Revanche? Le porte-parole de Madonna, Liz Rosenberg, n'a pas voulu trancher: «Les gens peuvent décider de ce que cela signifie. Madonna n'est pas du genre à s'expliquer.»
Madonna's designer underwear for her MDNA tour
By April MacIntyre May 31, 2012, 16:06 GMT

Madonna may be sliding into the Change of Life, but her ripped and toned body will be on full display during her MDNA tour.
Special tour underwear was designed so you can see every bit of sinew and flesh.
We received the Truth or Dare designs Madonna will wear in her MDNA tour which kicks off tonight in Israel, along with a quote from Arianne Phillips (Walk the Line), Madonna's longtime fashion collaborator and the creative consultant for the Truth or Dare brand.
Madonna, who is no stranger from performing in outlandish, sexy outfits, will not disappoint when she appears on stage wearing custom Truth or Dare footwear and lingerie.
Madonna's longtime fashion collaborator, Arianne Phillips is overseeing all major wardrobe designs for Madonna, her musicians and dance troupe of 22. Phillips who serves as the creative consultant for Truth or Dare, commented about the launch of the fashion line, stating, "It was super exciting to create pieces we have always wanted and needed, and that reflect the fashion 'DNA' of Madonna. It was exciting to be able to create products that people can buy and have a little bit of Madonna in their own life."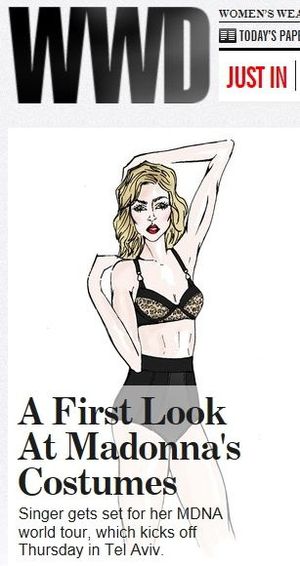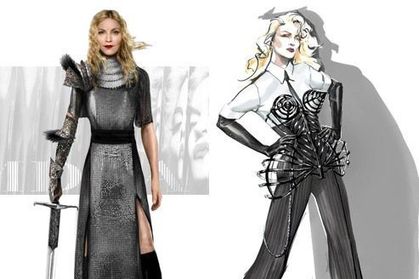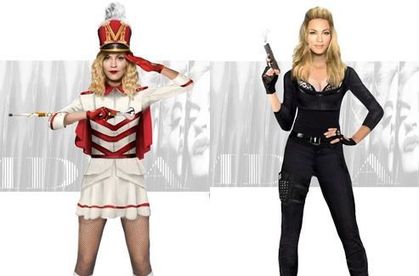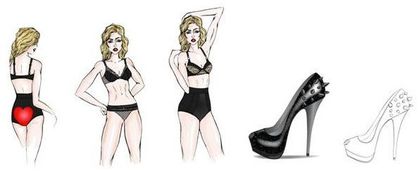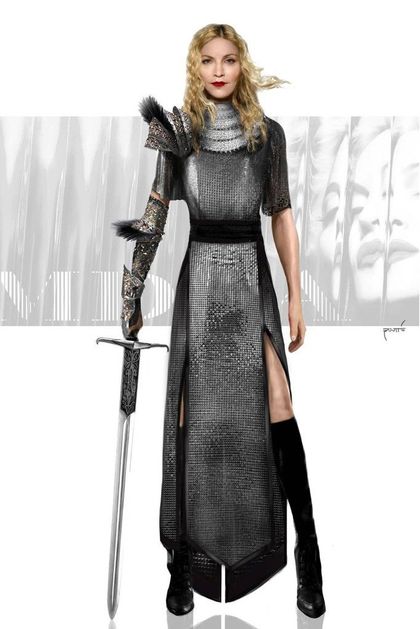 A Joan of Arc-inspired look fashioned from metal mesh and Swarovski crystals.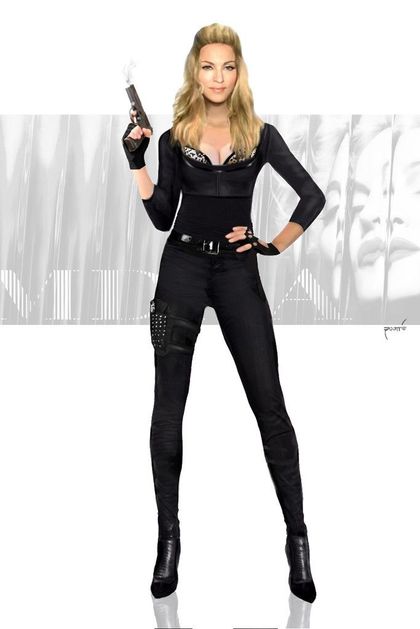 Madonna's "Super Vixen" look.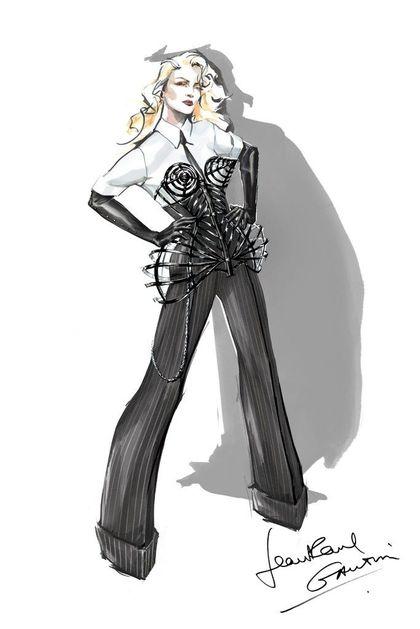 A Jean Paul Gaultier look for Madonna's "Vogue" number.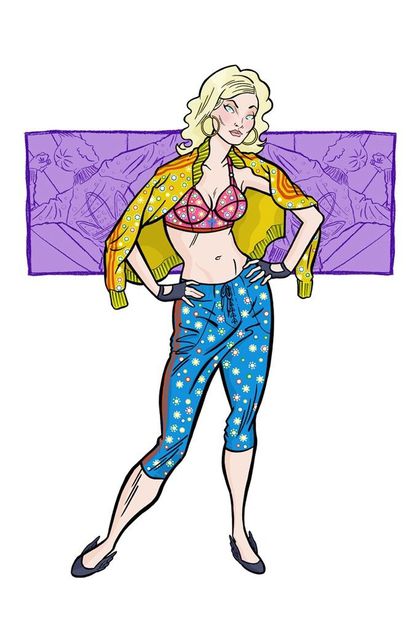 Jeremy Scott for Adidas look for Madonna's backup dancers.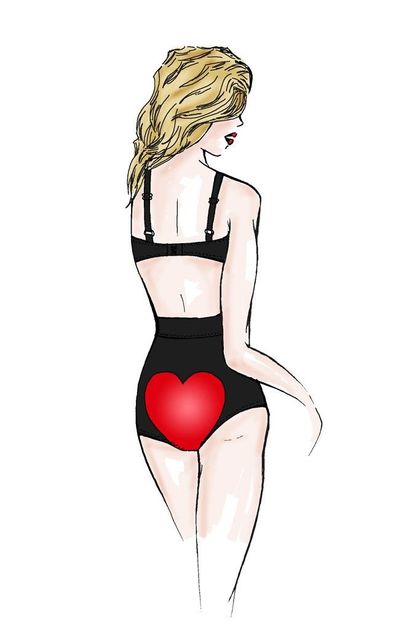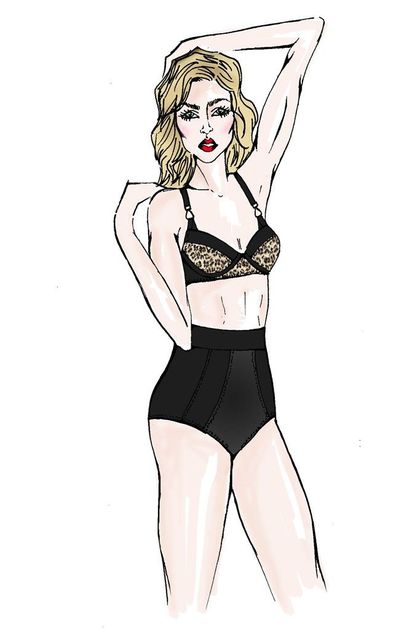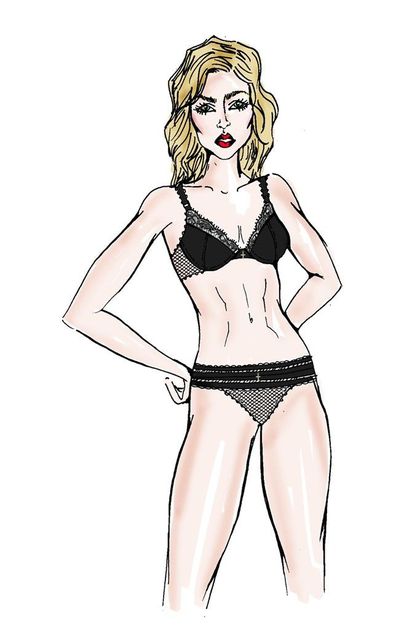 Looks from Madonna's "Truth or Dare" intimates collection are used throughout the show.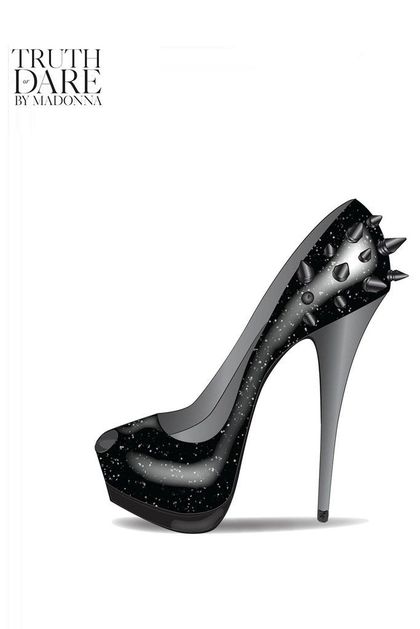 Looks from Madonna's "Truth or Dare" shoe collection are used throughout the show.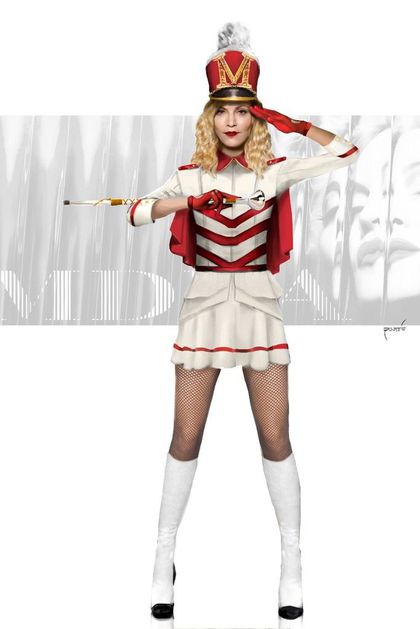 The "Majorette" look designed by Arianne Phillips.

Photos: Iconix Brand Group.