Madonna - MDNA Tour: Fans unite in Abu Dhabi to see Madonna

Madonna - MDNA Tour: Les fans se réunissent à Abu Dhabi pour voir Madonna.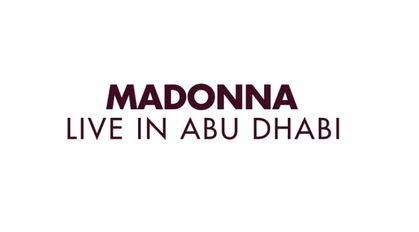 The world descends on du Arena in Abu Dhabi for The Queen of Pop. Fans came from Kuwait, Jordan, Brazil, Pakistan, India, Lebanon and more. They all shared a similar message of inspiration, peace, unity and respect.

Madonna, Live in Abu Dhabi
The moment you've all been waiting for, here's your chance to witness the concert of the decade as Madonna, the world's top-selling female recording artist, brings her MDNA Tour to our shores on Sunday, 3rd June and Monday, 4th June, as part of Yas Island Show Weekends.
Performing exclusively at du Arena (formerly know as the YAS Arena), Abu Dhabi, as part of her World Tour, this not-to-be-missed concert is set to make dreams come true for thousands in the region.
From die-hard Madonna fans to music lovers, concert-goers of all generations can expect a pop extravaganza as one of the best live shows in the world - renowned for exceptional production, choreography, performance and artistic flair - comes to the capital.
Benny Benassi will also be appearing as a special guest.