Madonna - MDNA Tour leaving France: ''Madonna Vatry Airport Crew''

Madonna - MDNA Tour quittant la France: "Madonna Vatry Airport Crew".

The MDNA Tour is leaving France for New York by 4 Boeing 747 cargo (2 from Air France and 2 from Kalitta Air). 3 Boeing 747 cargo have left France for New York yesterday, August 23, 2012. The last one is leaving this afternoon. 15 trucks have brought the material for one Boeing 747 cargo. Madonna's team made special t-shirts for the French airport crew : "Madonna Vatry Airport Crew". A second stage is travelling too.

1 stage : Nice, France => Vatry, France => New York, USA
15 trucks for 1 Boeing 747 cargo.
1 stage = 4 Boeing 747 = 60 trucks
The MDNA Tour => 2 stages => 8 Boeing 747 cargo => around 120 trucks
Marne - Région - Châlons-en-Champagne - Vatry
Madonna Vatry Airport
Publié le vendredi 24 août 2012 à 10H40
S.L.

VATRY (Marne). La piste de Vatry n'avait pas connu une telle charge de fret depuis plusieurs années. Quatre Boeing 747 ont été affrétés pour répondre aux attentes de la chanteuse. Le dernier décolle aujourd'hui, direction New York.
Les premiers wagons de fret s'alignaient tout au long du tarmac de Vatry hier après-midi, avant d'être chargés dans un avion-cargo de la compagnie Kalitta Air. En s'approchant de ce chargement, les plus curieux pouvaient apercevoir au travers des films de protection entourant les caisses un nom particulièrement évocateur : celui de Madonna.
Car il s'agissait bien du matériel nécessaire à la tournée française de la star américaine. Pour son concert de Nice en début de semaine, la chanteuse a préféré faire appel à la plateforme aéroportuaire marnaise plutôt qu'à celle de la capitale azuréenne. « L'équipe de Madonna est très contente de notre travail », se félicite Ludovic Goret, chef d'escale. « Cette opération est ponctuelle, mais le ponctuel peut se répéter… », ajoute-t-il. Le travail a débuté à deux heures du matin, avec vingt salariés de l'aéroport, 35 intérimaires et une quinzaine d'agents appartenant à l'équipe MDNA, chargée de la tournée française.
Précieuse cargaison
En matinée, quinze semi-remorques ont déposé leur précieuse cargaison, soit 350 tonnes. Les fameuses projections pendant les concerts de Madonna - dont celles qui ont fait enrager Le Pen - les effets sonores, bref toute la mise en scène de la vedette nécessite une logistique gigantesque.
Une fois déchargé des camions, le matériel devait ensuite prendre la voie des airs pour prendre la direction de New York. Pas moins de quatre Boeing 747 cargo ont été mobilisés pour l'opération, dont deux aux couleurs d'Air France. Il faut savoir qu'un second plateau, au volume identique, transite également en même temps, vers d'autres destinations. La tournée de Madonna nécessite ainsi l'équivalent de huit B-747 ! Excusez du peu.
Trois cargos ont décollé hier soir, un quatrième décollera aujourd'hui à 12 h 15.
« Notre volonté est de récupérer encore plus de marchés de ce type, car il existe très peu d'aéroports en France disposant de ce savoir-faire et de cette capacité », insiste le chef d'escale.
Cette opération reste exceptionnelle pour l'instant. Un transit de fret d'un volume similaire avait toutefois été effectué à Vatry il y a 4 ans, il s'agissait alors d'une énorme cargaison de beaujolais.
Cette fois-ci, étant donné l'ampleur de la manœuvre, l'équipe logistique de Madonna a fait faire spécialement des t-shirts pour l'événement. Les salariés envoyés sur l'opération MDNA portaient tous l'inscription « Madonna Vatry Airport Crew », avec un plaisir manifeste. Si la mine enjouée des responsables de l'aéroport laissait penser que le marché obtenu valait certainement cet effort, il était en revanche impossible d'en connaître le montant exact.
« Cette information intéresse trop nos concurrents » avance la direction de Vatry. Autrement dit, le silence est d'or.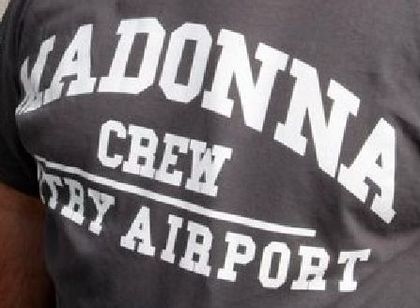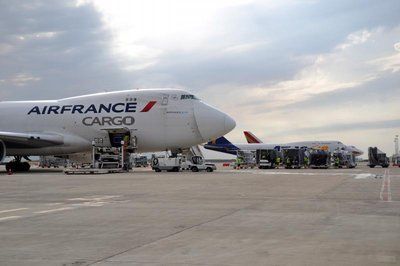 Pour la première fois, deux cargos d'Air France se sont posés à Vatry.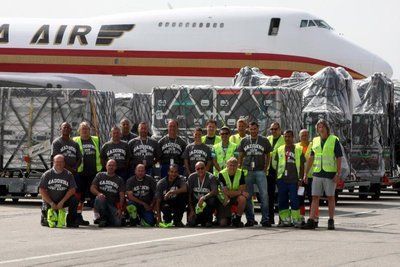 70 personnes ont travaillé toute la nuit et la journée d'hier.
Américains et Français ont joué le jeu en portant les t-shirts de l'opération.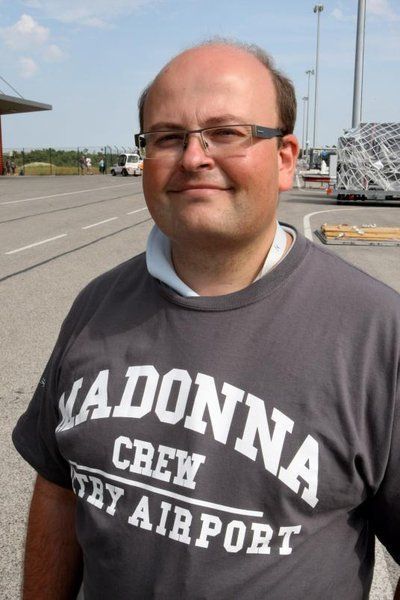 Photos: Christian LANTENOIS.