Madonna - MDNA Tour: Madonna Paris concert reports proven false by French version of FBI and fans

Madonna - MDNA Tour: Les rapports du concert de Madonna à Paris prouvés faux par la version française du FBI et les fans.
Madonna Paris concert reports proven false by French version of FBI and fans
July 29, 2012
By: Edward Daily

For the past couple of days, the media has enjoyed a field day reporting on how Madonna's career is over with since she was booed off stage at a private Paris concert. They have been doing this despite the fact that videos show the crowd having a great time and dancing. To make the story more believable, the media emphasized how after the show, "fans" threw bottles at the stage and called her a "slut." Until now, nobody looked into the allegations.
It turns out that many fans did feel shortchanged due to lack of communication on how the show would be shorter. But the actual riots and the screaming were started by supporters of Marine Le Pen, the leader of the far right National Front in Paris. Apparently, they are still upset that Madonna compares Le Pen to a Nazi in her tour. Even though Le Pen isn't a Nazi, the National Front has been accused of having Nazi ties and until recently, denied the Holocaust existed.
The French DST (equivalent to FBI in America) reported that a disturbance was planned, whether Madonna left early or not. There were several people holding up signs that made fun of Madonna's age, sexuality, and political affiliations. Once the show stopped, they started calling her rude names, rushed the stage with bottles, and encouraged others to boo. They took videos and uploaded them to YouTube immediately.
But Le Pen's supporters aren't the only ones involved. On several sites, many of Lady Gaga's "little monsters" are asking each other to post messages everywhere to say they can confirm Madonna is a liar since they were at the show. They are even posting false pictures of themselves at concerts and saying it was Madonna's Paris show. It's doubtful Lady Gaga would approve of this.
One fan emailed us and explained that he and his friends had an amazing time, but were certainly disappointed about the show's lengh. "Madonna was in top form. It's a shame she left early, but we still had a great time. I can tell you from being there that her own 'fans' did not start any riots. That is just media spin. There are people negatively commenting on Twitter who claim to have been at the show, but weren't. I can tell you 100 percent of what happened because I was there."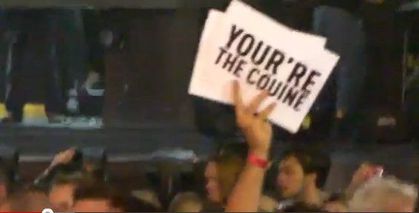 So called "fan" holds up angry Madonna sign in France.
Photo: Ceasar Lopez.