Madonna - MDNA Tour: On the cover of ''Jerusalem Post'' - June 1, 2012

Madonna - MDNA Tour: En couverture de "Jerusalem Post" - 1er juin 2012.

Madonna with dancer Lil Buck on the cover of Israeli newspaper "Jerusalem Post" - June 1, 2012.
Madonna avec le danseur Lil Buck en couverture du journal israélien "Jerusalem Post" - 1 juin 2012.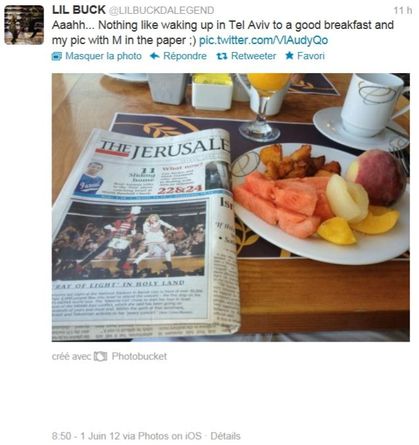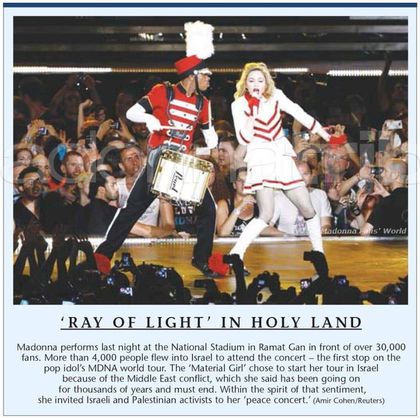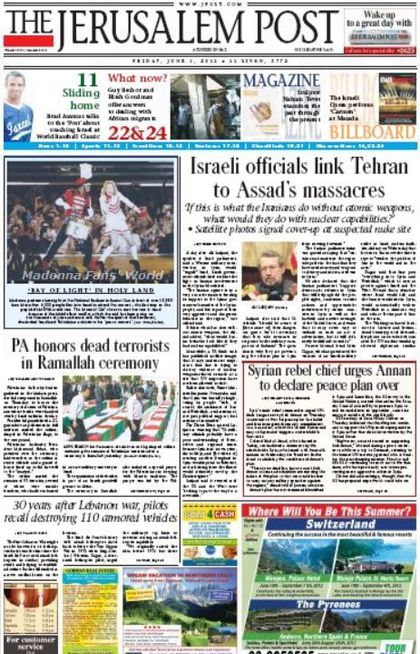 From JPost - Arts & Culture - Entertainment:
MDNA Tour Review: Introducing Jihad Madonna
By NIV ELIS
06/01/2012 20:41

The Queen of Pop is on a holy war in her visually stunning MDNA tour, but it's not clear exactly against what.
In the opening minutes of her MDNA tour, a confessing Madonna, shrouded in an Islamic-style veil and clutching an assault rifle emerges from the steeple of a church tower to the sound of gongs, Hebrew-chanting monks and the smoke of a giant, swinging thurible. Her latest incarnation, Jihad Madonna, is on a holy war, although it's not clear against what. In the 20-song set that follows, the 53-year old subversively mainstream pop icon takes aim at everything from the church to ex-husbands to pop throne heir apparent Lady Gaga. The result lacks rhyme or reason, but makes up for it with its indisputably delectable assault on the senses.
Religious imagery recurs throughout the show. In the ultra-violent first sequence, bad girl Madonna finds herself breaking all the rules. "I feel like sinning," she slyly sings, but soon proves that her sins against God go beyond the mere sexual promiscuity of her past work. Comparing her love to a "Revolver," Madonna goes on a shooting rampage in the song "Gang Bang" from her new album, which sees her shooting an onslaught of male attackers/former lovers whose blood splatters over the enormous video backdrop. Arriving at the inevitable destination of hell (where she promises to shoot her betrayer "over and over and over and over"), she transitions into her 80's abortion-themed classic "Papa Don't Preach," and then finds herself "Hung Up" by a group of tribal warriors, intent on sacrificing her for her sins. Finally, bathed in white light, Madonna triumphs by crushing the enormous cross in the background to smithereens.
If that sounds muddled, it is. Unsurprisingly, songs about disco dancing, bloody revenge, teenage pregnancy and sexual liberation set to the dark imagery of a shooting spree in hell don't combine quite coherently. The fact that Thursday's tour-opening show in Tel Aviv's Ramat Gan Stadium was dubbed a "Concert for Peace" and featured a speech on how Middle East peace could be achieved if people here merely rose above their egos and respected one another didn't quite jive with shouted lyrics such as, "If you're gonna act like a bitch, then you're gonna die like a bitch." The remainder of the show, which departed from the heavy-handed portrayals of death and murder, proved far more enjoyable.
Madonna succeeds most when focusing her energies on the aesthetic experience, for which the show uses cutting edge technology to great effect. Employing the largest video screen ever built as a backdrop and a series of rising and falling platforms encased in video screens, the stage is able to transform between any imaginable set within milliseconds. Three platforms, for example, become trains racing through the streets of India as slumdog dancers jump between them in the performance of "I'm a Sinner."
A 1920's portion, featuring gorgeous black and white outfits for "Vogue," shifting mirrors for "Human Nature" and a delightfully naughty visit to a burlesque bordello for a mash up between "Erotica" and "Candy Shop," showcases Madonna at her visual best. The audience audibly gasps as a man pulls a corset tight around her waist during her Marlene Dietrich-esque, waltzified performance of "Like a Virgin," and then gasps again as she continues singing, undeterred by the constricting bodice.
Madonna already made headlines for cleverly mixing "Express Yourself" with Lady Gaga's "Born This Way," which was widely accused of copying the former, during her cheerleader marching band segment. The dig would have been more satisfying as a clever wink, but Madonna instead threw in an unnecessary jab by singing "She's Not Me" at the end. What ever happened to rising above ego to respect everyone, Madonna? Clearly that rule does not apply when a rival threatens your pop throne. The rendition of lukewarm single "Give Me All Your Loving" that follows offers up one of the show's "wow" moments, as an entire troupe of marching band drummers hovers above the stage while singers Nicki Minaj and M.I.A. flash on the video screen.
As the show nears its end, a disco-glam Joan D'Arc-inspired Madonna – once again a holy warrior! – comes to terms with the upside of religion singing "Like a Prayer," from which she has long omitted the sexual imagery that once made the song controversial enough for Pepsi to drop its sponsorship. Placed back-to-back with the Hindu themes of "Cyberraga," the song has become Madonna's most honest expression of religious ecstasy, a far cry from the violence of the show's opening.
Despite the confused ideas underlying the performance, it's difficult to imagine somebody not enjoying a Madonna concert. Say what you will about the Kabbalah-studying, gun-toting, fashionista of pop music – and everyone has something to say – but the woman knows how to put on a good show. Leaving aside the irony of someone who has built an empire around her own image decrying the evils of ego and the mess of contradictions in its underlying themes and messages, the MDNA Tour employs enough stunning visual effects, acrobatics, choreography, costume, and cutting edge visual technology to pull in even the most casual pop consumer. Fortunately, it is easy enough to dismiss the shortcomings of Madonna's attempts to imbue deeper meaning into the entertainment, and just enjoy the show.