Madonna - MDNA Tour: Special show added at L'Olympia in Paris to be streamed online - July 26, 2012

Madonna - MDNA Tour: Concert spécial ajouté à L'Olympia à Paris diffusé en direct sur internet - 26 juillet 2012.
July 18, 2012
Olympia Show - Pre-sale Update
Due to demand, the Olympia system is working very slowly. Orders are being processed in the order they were received so please keep trying or remain in the line-up.
Thank you for your patience and understanding.
July 17, 2012
Madonna's MDNA TOUR Adds Special Performance At Paris' Famed Olympia July 26th
Madonna's fanatic French fans are in for a special treat
with the announcement of an
intimate one night only performance
by the
Material Girl
at the historic
Olympia in Paris on Thursday, July 26th
. The show which was confirmed by
Live Nation
,
Madonna's MDNA international tour promoter
, follows
The Material Girl
's stunning performance last
Saturday
(
July 14th
) at
Paris Stade de France
. The
Olympia show
will include songs from
Madonna
's current
MDNA
CD including her new single, "
Turn Up The Radio
" as well as
several classics
.
MDNA debuted at No. 1 in over 40 countries.
The
Olympia
, founded in
1888
has been the site of legendary shows by performers such as
Marlene Dietrich, Charles Aznavour and Jacques Brel
.
With anticipation for ticket demands for
Madonna's Olympia date
at an all time high,
the show will be streamed for all to see.
Complete URL information to follow this week.
The
MDNA Tour
, currently whirling through
Europe
, has reaffirmed
Madonna's reputation
as one of the
most thrilling and fearless performers
ever and an artist who continues to produce
visual extravaganzas
. "
Another world-class show her fans will lap up
," raved
The Sun
in the
UK
. "
Madonna's back with a vengeance... Madonna returns to defy the realms of possibility - our disco Messiah
," commented
MOJO Magazine
.
Tickets for the exclusive opportunity to see
Madonna
at the
2700 seat
will first go on sale to members of
Madonna's fan club
beginning
Wednesday, July 18th at 1pm (13:00)
through
Thursday, July 19th at 3pm (15:00)
. Tickets will be held for the public and will go on sale after following fan club sales on
Friday July 20th at 10:00
at
http://www.olympiahall.com/
.
Tickets starting at
80 euros
will be sold via internet only and will be limited to 2 tickets per person. All tickets purchased will be available night of show only at the will call window at the box office. Customers will be required to present picture ID and the credit card that tickets were purchased with. All transactions are non-transferable - only the person who purchased the ticket will be admitted entry. Once the tickets have been redeemed at the box office, the patron will be directed immediately into the venue.
The
MDNA tour
is produced by
Live Nation
.
Smirnoff
is an official spirits partner of
Madonna's MDNA World Tour
.
Concerts Pop Rock - Electro
MADONNA
Jeudi 26 juillet 2012 à 21h00: ouverture des ventes grand public vendredi 20 juillet 10h00
Live Nation en accord avec Live Nation Global Touring présente " The MDNA TOUR "

Préventes Fans club de mercredi 18 juillet 13h à jeudi 19 juillet 15h. Ouverture des ventes grand public vendredi 20 juillet à 10h00. Ventes uniquement sur le site web de L'Olympia. Les commandes sont limitées à 2 places au même nom. Toute commande supérieure sera annulée. Vos billets seront à retirer le jour du spectacle, sur présentation IMPERATIVE de votre mail de confirmation et de la pièce d'identité au nom de la commande.
Autres modes de réservation:
- Au guichet
Olympia Bruno Coquatrix
28, boulevard des Capucines
75009 PARIS - de 12h à 19h
- Par téléphone
08.92.68.33.68
0,34 €/min
de 10h à 18h
- Fauteuil roulant
Réservation par téléphone uniquement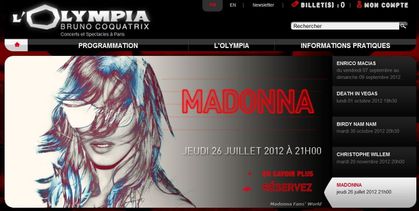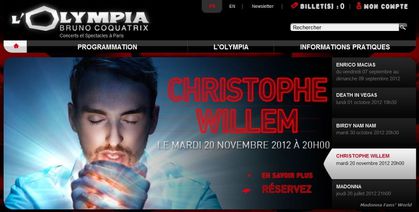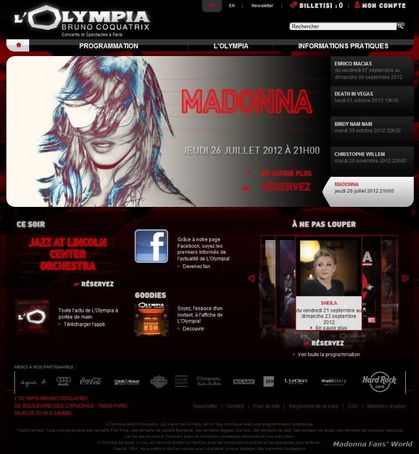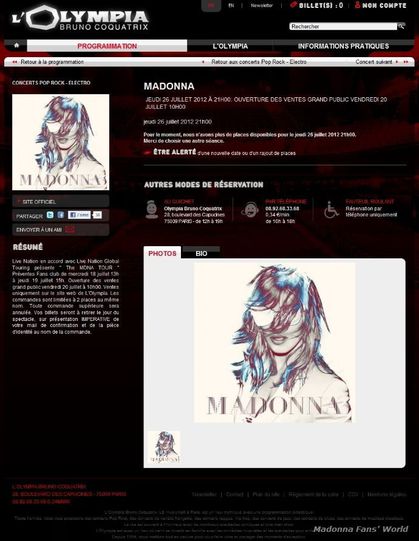 We are sure that French singer Christophe Willem is delighted to see himself nearby Madonna at the line-up at L'Olympia in Paris as he is a "Super Madonna Fan". A step closer to your "dream collaboration" ? As you can see, Christophe, we're doing everything we can for you. Watch below:

Nous sommes sûrs que le chanteur français Christophe Willem est ravi de se voir à proximité de Madonna à l'affiche de L'Olympia à Paris, car c'est un "Super Fan de Madonna". Un pas de plus vers votre "collaboration de rêve" ? Comme vous pouvez le voir, Christophe, nous faisons tout notre possible pour vous. Regardez ci-dessous :
"Holiday" by Christophe Willem


"Vogue" (+ speech) by Christophe Willem