Madonna - MDNA Tour: Tweets Live from Madonna concert in Tel Aviv, Israel

Madonna - MDNA Tour: Tweets en direct du concert de Madonna à Tel Aviv, Israël.

From JPost - Arts & Culture - Music:
Jpost reporters tweet live from Madonna concert
By JPOST.COM STAFF
05/31/2012 20:15

American pop queen Madonna's Israel concert kicked off Thursday night with Jerusalem Post Staff tweeting the concert's thrills in real-time. French DJ Martin Solveig warmed up the crowd, prior to Madonna's appearance on stage.
Madonna landed in Israel on May 24, where she is launching her 2012 world MDNA Tour in Israel, starting at Ramat Aviv Stadium on Thursday, May 31 – rescheduled from May 29. Her publicist had told the Post that Madonna is "extremely excited to be opening her tour in Israel."
The artist performed in Tel Aviv stop in her 2009 Sticky & Sweet Tour, and first appeared in Israel in 1993.
Jerusalem Post reporters will be tweeting live from the concert - follow our Twitter account for updates, photos and videos.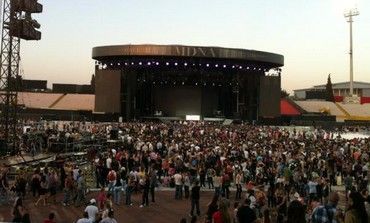 Photo: Lucy Nicholson / Reuters.