Madonna - MDNA Tour: Will Madonna, Britney Spears and Christina Aguilera reunite on-stage ?

Madonna - MDNA Tour: Madonna, Britney Spears et Christina Aguilera vont-elles se retrouver ensemble sur scène ?
Will Madonna, Britney And Christina Aguilera Reunite On-Stage?
Written by Instinct Staff | Monday, 27 August 2012

Are we getting a pop royalty reunion this October?
Our lives changed in 2003 when Madonna took the stage with Brit Brit and Xtina at the MTV Video Music Awards and now there's buzz that the threesome may come together again!
Idolator reports:
"Britney Spears and Christina Aguilera will take a short break from judging their respective signing competitions to make cameos at Madonna's MDNA tour when it hits the Staples Center in Los Angeles on October 10. The U.S. leg of the tour begins Tuesday (Aug. 28) in Philadelphia, and to drum up some buzz the tour's official Twitter announced Saturday (Aug. 25): 'Christina Aguilera will appear at MDNA concerts (Oct 10th & 11th) for a special performance!' followed by a message that Brit will merely 'attend' the October 10 show."
Now we're not surprised that this caused an interweb explosion of speculation as to whether the three divas would once again take the stage together, but we're betting against it.
First of all, we know how that worked out for Christina last time.
Did we even see her kiss with Madge? MTV's cameras were so busy capturing Justin Timberlake's reaction to the Madonna/Brit smooch that Christina was practically an afterthought.
If we know Christina, we bet she'd never risk that happening again.
As for Brit Brit, what's in it for her? We're not really sure how it benefits her to repeat herself.
That said, Madonna and Britney have always had a solid relationship, so maybe she'd just do it because Madonna asked her to?
What do you think, Instincters? Are we getting a pop goddess reunion NINE years later? (We're so old.)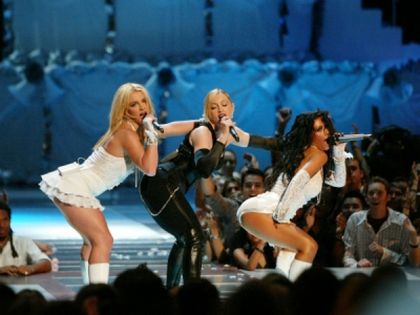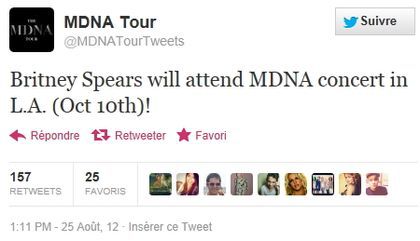 From Madonna Fans' World follower on Twitter: MDNA Tour