Madonna misses Weinstein's pre-Golden Globes awards party
Madonna manque la fête d'avant Golden Globes de Weinstein.

Madonna heads to L.A. while Harvey Weinstein throws a Golden Globes bash.
Madge misses Harvey bash
Last Updated: 9:21 AM, January 13, 2012
Posted: 1:58 AM, January 13, 2012
Madonna was still en route to LA for the Golden Globes Wednesday night when Harvey and Bob Weinstein threw the first big pre-awards bash of the week at the Chateau Marmont. The Material Girl's "W.E." writing partner, Alek Keshishian, was overheard saying Madge was "on her way from Gstaad" where she "had stayed at Valentino's chalet" and the designer had "personally given her skiing lessons." "My Week With Marilyn" star Kenneth Branagh and "Downton Abbey" actress Elizabeth McGovern had just arrived from London. A gaggle of older celebs who personally knew Marilyn Monroe recalled their experiences all night on a hotel veranda for "Marilyn" star Michelle Williams. Also at the Audi-sponsored party were "The Artist" cast members Jean Dujardin, Bérénice Bejo and director Michel Hazanavicius. "It was wall-to-wall celebrities who came to wish the nominees good luck, guess what Ricky Gervais will say and network for their next job," a source said, describing the scene.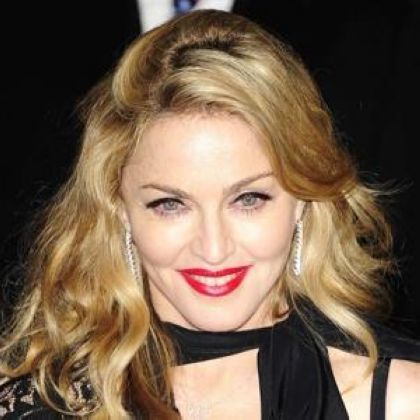 Madonna at UK premiere of "W.E." in London on January 11, 2012.
Photo: Peter/startraksphoto.