Madonna on Graham Norton Show - January 11, 2012
Madonna au Graham Norton Show - 11 Janvier 2012.

During the interview with Graham Norton, she said:
"I just have to pay the rent. A girl has to make a living, but truthfully I do enjoy it. Touring is the most rewarding of all my jobs."
On the leak of an early version of the first single, 'Gimme All Your Luvin' in November 2010, for which a Spanish man was arrested in December, Madonna joked: "It's soon (the release date). It depends how quickly people hack in to my server and leak it. Can people wait? It's terrible."
On "W.E." and why she was so obsessed with getting the film made:
"I felt like a real foreign outsider and idiot coming to the UK. I started to think I needed to research English history. If you're a romantic like me everyone wants to be swept away by a night knight in shining armour but we keep getting disappointed. If you have half a brain you know that doesn't exist."
On any other similarities with Wallis:
"I'm not as skinny as she was! But she was labeled as conniving and ambitious which was unfair and I can relate to that."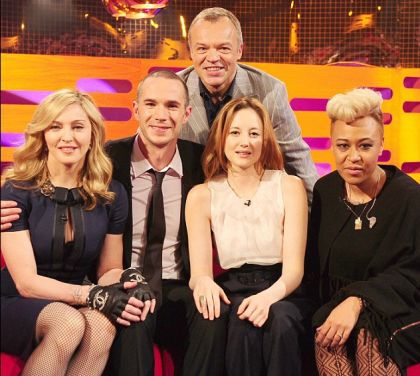 Madonna, James D'Arcy, Andrea Riseborough, Emeli Sandé and Graham Norton.