Madonna opening Grammy Awards and collaborating with Nile Rogers again
Madonna ouvrant les Grammy Awards et collaborant avec Nile Rogers à nouveau.


Madonna in talks to open Grammy Awards
December 28, 7:07 PM
Indianapolis Celebrity Headlines Examiner
Sue Bergerstein
Even though we are sick of having Madonna's crotch in our face all the time, we still cling to her because we know she is capable of making artistic comebacks. We are already excited about her new album that has rock producer Brendon O'Brien on board and a possible reunion with Like a Virgin collaborator Nile Rogers. But the excitement doesn't stop here.
We are told that Grammy producers asked Madonna to open up the award show this year. At first, she refused because she had nothing to promote. However, her manager convinced her to perform a couple classics. If the talks go through, we will see Madonna performing a medley of "Holiday," "Dress You Up," and "Frozen." Let's hope that the talks don't freeze like they did with Saturday Night Live last year.
Source: Examiner.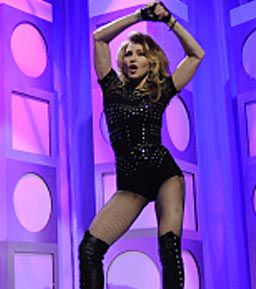 Madonna: A body of evidence
Photo: SNL.