Madonna pulls out of $14 million Malawi school project
Madonna récupère 14 millions de $ du projet d'école au Malawi.

By Alex Spillius and Mike Pflanz, The Daily Telegraph March 25, 2011
Madonna has abandoned plans to build a boarding school for 400 girls in Malawi despite having spent $3.8 million on the project.
The singer and her co-founder, the charity Raising Malawi, cancelled plans to complete school amid reports of mismanagement.
The charity has high-profile supporters including the actors Tom Cruise and Gwyneth Paltrow - who attended a glitzy Manhattan fund-raising event two years ago - as well as Kabbalah Centre International, the Jewish mystical organization to which Madonna belong.
"A thoughtful decision has been made to discontinue plans for the Raising Malawi Academy for Girls, as it was originally conceived," Michael Berg, a co-founder of Raising Malawi, said in an interview. Madonna said she was intent on continuing the charity, which is now being run by a caretaker board that includes the singer and her manager.
"There's a real education crisis in Malawi. Sixty-seven per cent of girls don't go to secondary school, and this is simply unacceptable," she said.
She has lent $10.8 million of her money to the organization, which has raised $17.3 million to date.
Troubles with the school surfaced in October, when Philippe van den Bossche, the boyfriend of Madonna's former personal trainer, departed as executive director.
Madonna commissioned a report by the Global Philanthropy Group, which, according to its chairman Trevor Neilson, found a "startling lack of accountability" on the part of the management in Malawi and America.
Both Mr Van den Bossche, and Anjimile Oponyo, a former UN Development Program worker who led the project in Malawi, were heavily criticized. It was alleged that there was no land title for the intended site of the school in Lilongwe and that building work had not begun, despite Madonna's attendance at a "ground-breaking" ceremony.
Mr Neilson told the New York Times that he had advised the performer that starting a school from scratch was not the best use of her funds. He recommended providing money to existing educational schemes run by non-government organisations with expertise in the field. Madonna' connection with Malawi began when she adopted a child in 2006, and then another in 2009.
International adoptions by Americans have decreased sharply due to the economic crisis and increased regulation. In 2004, almost 23,000 children were adopted from around the world by American families, but by 2010 that figure had more than halved to 11,058, according to U.S. State Department figures.
Source: Canada.

Madonna, Malawi and the mismanaged millions
Plans for academy collapse amid allegations of grotesque waste
By Jonathan Brown
Saturday, 26 March 2011
Madonna insisted last night that she would continue with her mission to boost the lives of young girls in Malawi, after it was reported that her plans to build an elite academy in the country had collapsed amid allegations that millions of dollars had been squandered on the flagship project.
The board of directors of her charity Raising Malawi, which is backed by Hollywood stars as well as the Los Angeles-based Kabbalah movement, has been replaced by a caretaker team including Madonna and her manager, according to The New York Times.
It is claimed that $3.8m (£2.4m) was already lavished on the controversial $15m (£9.3m) project to build a school for 400 youngsters near the capital Lilongwe in southern Malawi. But an audit commissioned following the departure last October of the charity's executive director, who was the partner of Madonna's ex-personal trainer, criticised senior staff and identified poor management practices.
The decision to scrap the academy was first mooted in January, prompting recriminations from the Malawian government and local villagers angry after giving up their homes to make way for the 117-acre high-profile development. In 2009, Madonna, 52, who has adopted two children from Malawi, visited the region amid a blaze of publicity ahead of planned building work for the institution which it was hoped would create "future women leaders" for the impoverished nation.
But yesterday's New York Times said the scheme had been abandoned and criticised in an internal audit by the Global Philanthropy Group (GPG). It claimed that the report revealed "outlandish expenditures" for the unbuilt academy including "salaries, cars, office space and a golf course membership, free housing and a car and driver for the school's director".
Madonna said she was frustrated. She said she had raised $18m (£11.2m) which will now go towards school building across Malawi, and added: "Sixty-seven per cent of girls don't go to secondary school, and this is unacceptable. Our team is going to work hard to address this in every way we can."
However the New York Times noted that aides were unable to explain why the problems had not been spotted sooner despite Madonna's involvement. Trevor Neilson, a GPG founder, told the paper he had advised her that a costly school was not the best way to further development goals.
He said money had been spent on architects, design and salaries and two cars for staff who had not yet been recruited. "Despite $3.8m having been spent by the previous management team, the project has not broken ground, there was no title to the land and there was, overall, a startling lack of accountability on the part of the management team in Malawi and ... the United States," he said.
"We have yet to determine exactly what happened to all of that $3.8m. We have not accounted for all the funds."
Source: The Independent.

Good intention not enough to run charities: experts
By Michelle Nichols – Fri Mar 25, 4:23 pm ET
Editing by Xavier Briand).
NEW YORK (Reuters) – Madonna's failed bid to open a school for poor girls in Malawi shows that running a successful charity requires not just good will but also a solid business plan, philanthropy experts say.
The singer, her manager and others have taken over the board of Raising Malawi, co-founded by her in 2006, and scrapped plans for building a school in the southeast African nation, The New York Times reported on Friday.
About $3.8 million had already been spent on plans for the school with little to show for it, the newspaper reported. Madonna, who has adopted two children from Malawi and visits regularly, declined to comment on the Raising Malawi problems.
"Having good intentions and good will is not enough," said Melissa Berman, chief executive of Rockefeller Philanthropy Advisors. "Many of us like eating in restaurants, but that doesn't really mean we're in a good position to start one."
"It's a hundred times harder to start a school than to give money to a school that exists," Berman said. "Doing a start-up is really complicated whether it's in business or nonprofit."
Madonna is not the first celebrity to face challenges in their philanthropy. A school built by media mogul Oprah Winfrey in South Africa has been tainted by allegations of sexual assault, while hip hop artist Wyclef Jean's Yele Haiti Foundation was accused of mismanagement.
There are more than 75,000 active grantmaking foundations in the United States, of which 65 percent have less than $1 million in assets, according to The Foundation Center. These groups gave away nearly $43 billion in 2009.
"The charitable function can't be accomplished without a business-like approach and a good governance approach," said Doug White, of New York University's Heyman Center for Philanthropy and Fundraising.
"These people who come in and say 'I can do it better' tend to have successes in other fields or endeavors and as a result bring an ego to the process that really is misplaced when it comes to assuming they can do a good job putting a foundation or a charitable organization together," White said.
As much as the philanthropic world may hate to admit it, charities needed a good business plan, he said, adding that problems like those faced by Madonna were a common occurrence.
Madonna brought in philanthropic advisers in November to help her overhaul Raising Malawi, the Times reported, and they have suggested that she fund education programs though existing and proven nonprofit organizations.
"This does show how hard wealth allocation and philanthropy truly is," Glen Macdonald, president of the Wealth and Giving Forum, which advises wealthy families on philanthropy, said of Madonna's philanthropic challenges.
"The philanthropic world can't escape the need for good business practices," he said. "Hopefully this can not only be a learning lesson for Madonna, but for others."
Source: Reuters.

Madonna Abandons Malawi School Project, Critics Tell Her To Return Adopted Kids
Posted on Mar 25, 2011 @ 02:36PM
Malawian education expert and academic Dr. Steve Sharra wants superstar Madonna to return her two adopted children David and Mercy if she doesn't build her promised school for needy African kids, RadarOnline.com can reveal.
Dr Sharra is furious that Madonna and her Raising Malawi charity has scrapped her plans for a $15 million school for about 400 impoverished girls due to mismanagement.
And he used his Twitter account to attack the famous performer by writing: "Madge, if you don't change your mind about the school, I might consider asking for David [and] Mercy's return."
The Malawian government is also furious at the change of plans by Raising Malawi and the famous performer who controversially adopted her son David Banda in 2006 followed by her daughter Hope in 2009.
Education Minister Peter Mutharika said: "We'd like to know why she has changed,"
"Yes, we do appreciate that it is her project; she devised it and she knows best how to implement it. But still, as government, we'd be interested to know why there is this change."
Mutharika – who is tipped to be the next president when his brother, Bingu wa Mutharika, ends his final term in 2014, added: "I honestly don't know the number of schools she is going to construct, where she will build and for how long. So until we talk to her, we can't comment much."
Raising Malawi has ousted its board of directors and replaced its members with a new set of officials that includes Madonna and her manager, according to the New York Times newspaper.
Rabbi Michael Berg – the co-founder of Raising Malawi - sent an e-mail to the charity's members stating: "A thoughtful decision has been made to discontinue plans for the Raising Malawi Academy for Girls, as it was originally conceived."
The charity had drawn financial support from Hollywood and society circles, as well as the Los Angeles-based Kabbalah Centre International, which Berg heads.
The Malawi school had collapsed after spending $3.8 million on the project and its executive director, the boyfriend of Madonna's former trainer Tracy Anderson, left in October amid criticism of his management style and cost overruns.
Madonna issued a statement on Thursday saying she was still intent on using the organization, which has raised $18 million so far, to advance improvements in the beleaguered nation.
"There's a real education crisis in Malawi," she said.
"Sixty-seven percent of girls don't go to secondary school, and this is simply unacceptable. Our team is going to work hard to address this in every way we can."
Malawi is one of the world's poorest nations, with more than half of the population of 12 million living on less than one dollar a day.
Some 200 people were removed from Chinkhota village, on the outskirts of the capital, Lilongwe, in preparation for the Raising Malawi Girls Academy.
Source: Radar Online.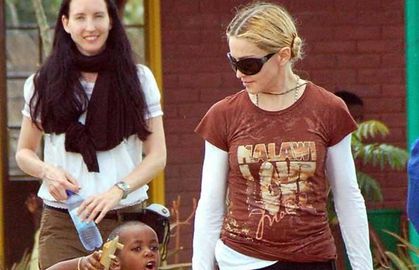 Madonna caused a bit of a kerfuffle when she adopted David Banda (shown here) from Malawi in 2006. She was granted permission to adopt another child from Malawi -- a girl named Mercy -- on June 12, 2009.
Photo: Getty Images.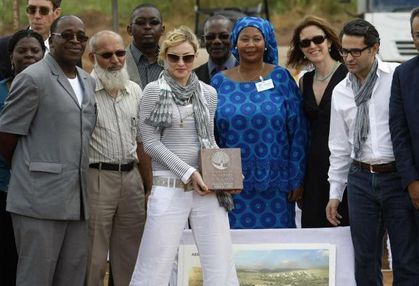 Madonna lays the foundation stone at her Malawi Girls Academy.
Photo: Reuters.