Madonna puts faith in her true blue fans
Madonna met sa foi dans ses vrais fans.
From legendary comebacks and a viral video ingenue to long-awaited returns, here's what to expect from the music scene in the coming months
By LEAH COLLINS, Postmedia News; Dose.ca DECEMBER 31, 2011 5:17 AM
While you finish compiling your list of the top records of 2011, let's get a head start on the new year's bestof rankings. The first few months of 2012 promise legendary comebacks, potential pop blockbusters and the debut disc from one of the Internet's most buzzedabout personalities. Here's what we'll be watching for.
Nicki Minaj: Pink Friday - Roman Reloaded (Feb. 14).
She was named Billboard's Rising Star of 2011, but 2012 is primed to be another year of Nicki Minaj.
Minaj seems to play better with others than just about anyone else in the game. Past collaborators include Drake, Lil Wayne, Madonna and Britney Spears. It's not yet clear whether she'll be collaborating with more artists on her new album, though.
Madonna: title TBA (March; date TBA)
Since the early '80s, Madonna has defined a certain brand of pop music and pop stardom, and while it's difficult to think of any other performer - female or otherwise - who has come close to holding a candle to her, the Top 40 landscape has changed significantly since her last album, 2008's Hard Candy. The electro-pop she's revelled in - and occasionally reinvented - since the '80s is everywhere. Pop stars including Lady Gaga, Katy Perry and Nicki Minaj are building their own multidisciplinary cults of personality that might one day rival Madonna's own.
It'll be curious to see how Madonna's latest will fit in the dance-pop-saturated landscape, but the once and possibly future queen of pop has scheduled an unusual launching pad for her 11th studio effort. On Feb. 5, she'll play the Super Bowl in a number that will include the new single Gimme All Your Luvin. An unpolished recording of the track - which features M.I.A. and Nicki Minaj - leaked in November.
As for collaborators, longtime producer William Orbit is reportedly involved, as is French DJ Martin Solveig. Madonna fan sites have suggested contributors could include everyone from NPR-beloved singer-songwriter/master guitar shredder St. Vincent to rapper Kid Cudi.
Read more at The Montreal Gazette.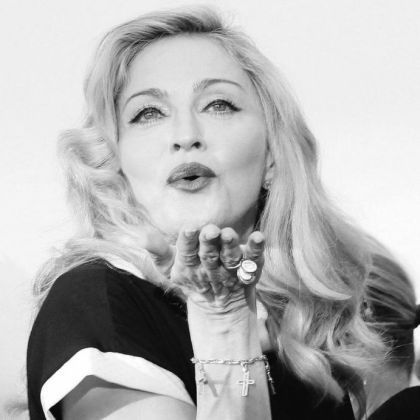 Madonna will sing her new single Gimme All Your Luvin at the Super Bowl Feb. 5.
Photo: ALESSANDRO GAROFALO REUTERS FILE, Postmedia News; Dose.ca.