Madonna, Queen of the Noughties
Madonna, Reine de la Décade.


Pop star attracted more media coverage in past 10 years than any other celebrity, reports Jerome Taylor
Monday, 21 December 2009
They say there's no such thing as bad publicity – and if sheer column inches are anything to go by then the Noughties have been all about Madonna.
As the first decade of the 21st century draws to a close, researchers have been busily working out which celebrities have received the most amount of space in Britain's newspapers, with the cabbala-loving queen of pop emerging a clear winner.
Madge was already the bestselling female artist of the 20th century when 1999 became 2000, but over the past 10 years she has continued to dominate the headlines thanks to her regular chameleonic reinventions and high-profile marriage (and then divorce) to British director Guy Ritchie.
Madonna-the-pop-goddess (as opposed to the religious version) has been mentioned in 45,633 articles in the British press over the past 10 years, almost 17,000 times more than her nearest rival, Robbie Williams.
Researches found that the first half of the decade was so dominated by Madonna stories that even when her publicity popularity peaked in 2007, she had still accrued enough media coverage to win the overall race by a clear margin.
Alex Ayling, commissioning executive of online television channel Liv, which commissioned the study, said: "Madonna's ability to be able to reinvent herself and her image has meant she has stayed at the top of her game throughout the Noughties and we salute the queen of pop."
But The Independent's music critic Andy Gill was more circumspect. "What's most remarkable about these figures is the lack of musical success Madonna has had in the past 10 years, considering just how much press coverage she's received. Whether it's Madonna or Robbie Williams, it is their soap opera lifestyle that generates the headlines, not their musical ability," he said.
Victoria and David Beckham were only able to manage a sixth and seventh place on the top 10 most written about table, but "Brand Beckham" (mentions of both David and Victoria in the same article) came in fourth with 26,561 hits, marginally below Britney Spears, whose eventful decade of pop stardom and public breakdown accrued her 27,910 hits in the British press. Kate Moss came fifth with 26,494 mentions; Michael Jackson, Simon Cowell and Sir Paul McCartney completed the top 10.
This year, however, was dominated by Michael Jackson's death in June and pretty much anyone associated with uber-pop svengali Simon Cowell, who was himself the second most written about celebrity this year after the late King of Pop with 6,213 hits. Susan Boyle and Cheryl Cole joined The X Factor creator in the top 10, while Jedward, perhaps the greatest pop enigma of the Noughties, have managed to wangle their heavily coiffured quiffs into 1,112 articles in the past three months alone.
So who will dominate the tabloids for the next decade? If Cheryl Cole's recent omnipresence is anything to go by, the singer looks sure to be in with a chance of pole position come 2020.
Thanks to her primetime role as a judge on The X Factor, and the tabloid press's increasing fixation with her at the expense of her fellow Girls Aloud bandmates, Cole has seen her newspaper stocks skyrocket.
In 2007 there were "just" 884 articles written about the Geordie singer but in 2008 – the year she joined The X Factor – the number of articles mentioning Cole jumped to 2,241. This year she has appeared in 3,745 articles, making her the fourth most written about celebrity of 2009.
Source: The Independent.

Madonna is top celebrity of the Noughties
London, Monday 21.12.09
Last updated at 08:48am on 21.12.09
Madonna has been declared the "most famous celebrity of the decade", in a column inch countdown of British national newspapers.
Robbie Williams, who has enjoyed comeback success this year, was the most written-about male celeb of the past 10 years.
Michael Jackson, whose death in June - just before he was due to embark on a marathon string of London concerts - sent shockwaves around the world, was the best-documented star of 2009 in the survey.
Man of the moment and Britain's Got Talent and X Factor supremo Simon Cowell was in second place in the survey which covered 2009 up to December 7.
Others catapulted into the limelight thanks to Cowell's talent shows include Susan Boyle, who researchers found had 3,170 pieces written about her in 2009, and twins John and Edward Grimes, collectively known as Jedward, who attracted 1,112 articles due to their X Factor success.
Cheryl Cole's national newspaper popularity increased almost three-fold following her role as a judge in The X Factor, according to the research.
In 2007, the Girls Aloud singer had 884 articles written about her, but this number increased to 2,241 in 2008 and a further 3,745 reports appeared this year, which means that she is the fourth most written about celebrity of 2009.
With a high profile marriage and divorce, adoption bids and one of the most successful careers around, Madonna has accrued 45,633 mentions over the decade.
This was around 17,000 more news articles than her nearest rival Williams.
The study was commissioned by online UK TV channel Liv, which features style and celebrity programming.
Liv said its findings showed that Madonna dominated British celebrity print coverage for the first six years of the noughties, but finally lost her crown in the 2007, with the likes of Kate Moss, Amy Winehouse, Britney Spears and Victoria Beckham proving particularly popular among newspapers towards the end of the decade.
Alex Ayling, Liv commissioning executive said: "This is a fascinating insight into which celebrities have real showbiz staying power with the UK print press and have proved their popularity over the last decade. Madonna's ability to be able to re-invent herself and her image has meant she has stayed at the top of her game throughout the noughties and we salute the queen of pop."
Victoria Beckham just pipped her footballer husband David in the research covering the last 10 years, although "brand Beckham" - covering both Posh and Becks - has been listed as a separate entity, coming even higher in the survey.
According to researchers, Williams's print popularity surged in 2005 when he released his album Intensive Care and sold 1.6 million tickets in a day for his 2006 world tour.
Peter Andre beat his ex wife Katie Price to make it on to the top 10 2009 list.
Researchers said the written attention that he received increased five-fold following the couple's split.
The results were calculated by TNS Media Intelligence using British national newspapers.
Here are the top 10 celebrities in the Column Inch Countdown for the last decade, with the total number of articles:
1. Madonna 45,633
2. Robbie Williams 27,976
3. Britney Spears 27,910
4. Brand Beckham (Posh and Becks) 26,561
5. Kate Moss 26,494
6. Victoria Beckham 25,204
7. David Beckham 24,631
8. Michael Jackson 22,426
9. Simon Cowell 22,263
10. Sir Paul McCartney 20,347
And here are the top 10 celebrities in the 2009 Column Inch Countdown, with the total articles for this year, up to December 7:
1. Michael Jackson 6,838
2. Simon Cowell 6,213
3. Madonna 4,612
4. Cheryl Cole 3,745
5. Katie Price 3,700
6. Susan Boyle 3,170
7. Jade Goody 3,049
8. Lily Allen 3,021
9. Peter Andre 2,985
10. Kate Moss 2,618
Source: Evening Standard.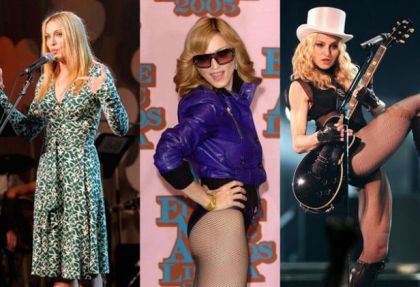 Madonna of the media, in 2004, 2005 and 2008.
Photo: GETTY.