Madonna raids Scots museum for Wallis wedding dress copy
Madonna fait un raid au musée écossais pour la copie de la robe de mariée de Wallis.


Published Date: 09 July 2010
By Tim Cornwell
Last Updated: 08 July 2010 8:44 PM
Source: The Scotsman
Location: Edinburgh
Related Topics: Madonna
A REPLICA of the Duchess of Windsor's wedding outfit, currently on show at the National Museum of Costume at Dumfries, has been pulled from display and is heading to the set of Madonna's film WE, in which actress Andrea Riseborough plays the woman whose charms created a crisis for the British monarchy.
The outfit was worn in 2005 by Joely Richardson, who played Simpson in the TV production Wallis and Edward. It was showing in at the museum as part of a touring Marriage in the Movies exhibition.
"This was a dress that was made for the movies, so when we received the request from Madonna's production company, we were only too happy to oblige," said Margaret Roberts, the museum's general manager. It will remain on display until 12 July, though the rest of the exhibition will be open until the end of October.
Shooting began this week on WE, Madonna's second foray into directing. She has much to prove, observers say, after her first short film, Filth and Wisdom, won few fans in 2008.
Edward VIII abdicated on 10 December, 1936 after declaring his love for Simpson; marriage to an American divorcee was considered unacceptable, particularly for the Church of England. Edward, now the Duke of Windsor, and Simpson were married on 3 June, 1937, at Chateau de Cande near Tours, France.
While the duke wore formal black morning dress, Simpson was described wearing a floor-length cocktail dress with a fitted jacket, gloves, high-heeled sandals, and a tiny hat, all coloured "Wallis blue".
Madonna co-wrote the script for WE over two years with Alek Keshishian, who directed the best-selling behind-the-scenes documentary about the singer on tour, In Bed with Madonna.
British actor James D'Arcy, whose work includes a role in Secret Diary of a Call Girl, plays Edward VIII opposite Riseborough, best known for her portrayal of Margaret Thatcher in the BBC drama The Long Walk to Finchley. A father and son from a venerable British acting dynasty, James Fox and his son Laurence Fox, play King George V and his younger son Bertie.
But the film tells the story of two paralell love stories six decades apart, with actress Abbie Cornish playing a modern New Yorker who is obsessed with Simpson's story, only to fall for a security guard at an auction of her effects.
The replica dress is owned by a theatrical costume agency, Cosprop, and was part of a show including wedding dresses worn by film stars Meryl Streep, Keira Knightley, Natasha Kinsky and Helena Bonham Carter.
But after the request from Madonna's producers, the museum waived a contract under which the dress would have been on show until October. While the costume, designed by Michael O'Connor, features in a key scene in the film, it will have plenty of competitors for screen time.
Madonna's own famous costumes already tour UK museums — the pink dress from her 1985 Material Girl video was among costumes that showed in Perth earlier this year. In an interview she suggested Simpson's character might end up changing costumes almost as quickly.
"The duchess has, like, 80 costume changes" she said.
"She was dressed by Balenciaga and Christian Dior, and Vionnet and Schiaparelli. Cartier and Van Cleef & Arpels made most of her jewellery.
"A lot of the actual stuff is in museum archives."
Source: The Scotsman.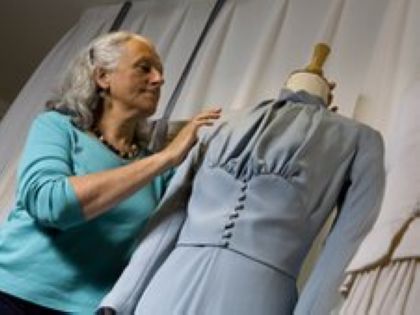 Wallis wedding dress copy