Madonna Rep Denies Surgery Report
Le porte-parole de Madonna nie les rapports de chirurgie.


01 June 2010 22:06
Madonna's publicist has shot down reports the pop superstar is planning an extensive cosmetic overhaul this summer (10), insisting there is "no plastic surgery on her calendar".
The Material Girl turns 52 in August (16), and is rumoured to be preparing herself to go under the surgeon's knife in a bid to look younger.
British tabloid reports suggest the singer has booked herself in for an eye lift, lip and cheek fillers, breast implants and Botox.
But according to Madonna's spokesperson, the only thing the star will be scrutinising over the summer is her upcoming movie about the abdication of British monarch Edward VIII.
The rep tells GossipCop.com, "Madonna is directing a movie all summer. (There's) no plastic surgery on her calendar. (It's) all fiction."
Source: Contactmusic News.

CLAIM: Madonna Will Buy A New Body for Her Birthday
1:37 pm, June 1st, 2010
Is Madonna planning to commemorate her birth by turning back the clock?
According to the Daily Star, the Queen of Pop is considering a small fortune worth of plastic surgery as a birthday gift to herself.
Among the purported procedures are an eye lift, a boob job, lip fillers and Lipo Sculpt, as well as laser treatments and Botox.
Projected cost: Somewhere in the neighborhood of $147,000.
"Madonna has been feeling her age since her divorce from Guy Ritchie in 2008," a "source" tells the paper, later adding, "Her friends have recommended things to have done and she's considering them as a little treat for turning 52 in August."
A "pal" explains that she will spend the next year "overhauling herself completely."
Maybe the Daily Star should consider an overhaul.
Because Madonna isn't planning a major cosmetic offensive in August.
"Madonna is directing a movie all summer," her rep tells Gossip Cop, confirming that there's "no plastic surgery on her calendar."
The notion that Madonna is going the Full Montag is "all fiction," says the rep.
Source: Gossip Cop Policing Hollywood and Celebrity News.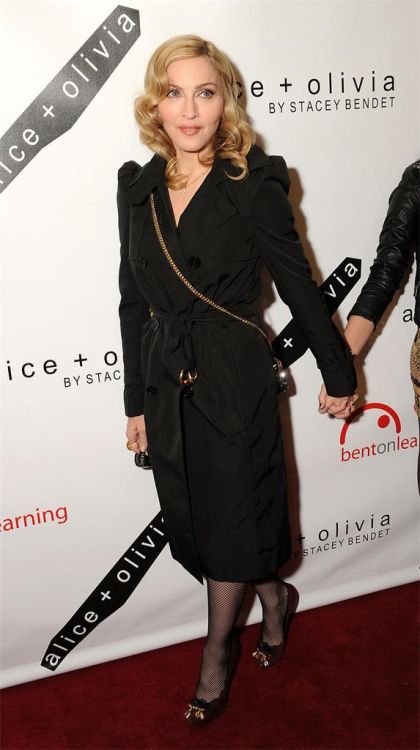 Singer Madonna attends the 2nd Annual Bent on Learning Benefit at The Puck Building on April 28, 2010 in New York City.
Photo: Stephen Lovekin, Getty Images.