Madonna, Rihanna and Paul McCartney at Anna Wintour's party
Madonna, Rihanna et Paul McCartney à la soirée d'Anna Wintour.

Caught in the Act
Wednesday May 04, 2011 06:00 AM EDT
By REAGAN ALEXANDER, JENNIFER GARCIA and AILI NAHAS
After turning it out at the Met Costume Insitute Gala, Beyoncé and hubby Jay-Z partied uptown at Anna Wintour's bash at Crown. The two were the first to arrive, and they hit the dance floor after saying hi to DJ Cassidy, who spun tunes at the bash. Downstairs, Madonna, Rihanna and Paul McCartney hung out together, and McCartney kept requesting Michael Jackson songs. The trio were the last to leave the star-studded bash – which also drew out Kanye West, Mary-Kate and Ashley Olsen – around 3 a.m.
Source: People.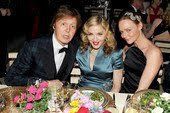 Paul McCartney, Madonna and Stella McCartney.