Madonna rumored to be a ferret owner
Madonna supposée être propriétaire d'un furet.

Paris Hilton and Madonna fueling surge in ferret ownership in the UK
April 16, 2010 02:43 PM EDT (Updated: April 16, 2010 02:47 PM EDT)
Celebrities like Paris Hilton and Madonna are boosting sales of ferrets for pets in the UK. Paris was recently seen holding her pet ferret, supercharging interest in her followers.
Madonna is also rumored to be a ferret owner.
Fans are copying their favorite celebrities by buying one of the animals for themselves and they've sparked a boom in sales.
Here in the US, ferrets continue to gain in popularity, with the also unfortunate side effect of increased numbers of ferrets in shelters.
Those who work to re-home the mischievous creatures are not necessarily thrilled when celeb pets inspire people to rush out and become a ferret owner.
"Getting a ferret because your favorite actress has one is a very poor reason to own a pet," Barb Carlson of the Hide-E-Hole Ferret Rescue in Pittsburgh, PA, said. "Ferrets are not for everyone, and your average person doesn't have an entire staff to help care for it." Ms. Carlson added, "They aren't the cheapest pet to own, either, since their food and vet care are expensive. I'm sure Ms. Hilton has no trouble affording any ferret emergencies, but the typical ferret owner needs to plan for such things."
Ms. Carlson, who has owned ferrets for over 20 years and has been the Director of the Hide-E-Hole for over 9 years says ferrets can be a lot of fun and do make wonderful pets for the right person. "You need to be able to tolerate a certain level of chaos," she said with a chuckle. "A ferret will knock over your drink, hide your cell phone, steal your shoes, and knock over the garbage -- all in the first 15 minutes after they're let out to play. If you don't think that's cute, then a ferret is not the pet for you."
Shelter operators like Ms. Carlson tend to cringe when a new celebrity shows off a pet ferret. Publicity can be a double-edged sword. "On the one hand, it's good to get information out there about ferrets," Carlson said, "but on the other hand, people who can barely take care of themselves have been known to rush out and buy a baby, with no clue what to do next."
Ms. Carlson suggests doing your homework before getting a ferret, and she strongly recommends getting a slightly older ferret from a shelter for first-time owners. "Baby ferrets can be quite a challenge," she said. "A slightly older ferret makes a much better first-time choice. That 'crazy baby' stage is over, and the shelter mom can tell you what kind of personality you're getting." She added, "Baby ferrets are adorable, but you don't know if you're getting a sweet thing or a carnivorous little beast."
"If you know what you're doing," she said, "you can train that nippy little thing to be more gentle, but first-time owners just don't have the experience." She pointed out a few scars on her hands and said, "These are scars from ferrets who were surrendered for biting. It's much easier to stop the behavior when they're young -- they don't bite nearly as hard!"
Ms. Carlson asserts that most nippy ferrets can, indeed, be trained out of the behavior, but "it takes patience and a little experience" that your average person off the street might not possess.
Carlson suggested the book, Ferrets for Dummies, as a good book that will give a potential ferret owner a basic knowledge of what ferret ownership requires. Other recommendations include reading articles that can be found at the American Ferret Association, The Miami Ferret Association, Massachusetts Ferret Friends, Ferret Universe, and of course, the Hide-E-Hole Ferret Rescue, among others.
Source: Gather.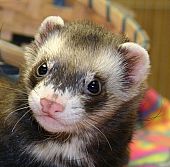 A ferret