Madonna's boyfriend charges $84,000 to be DJ for 90-minute
Le petit ami de Madonna se fait payer 84 000 $ pour être DJ pendant 90 minutes.

2010-04-09 12:30:00
Pop diva Madonna's boyfriend Jesus Luz charges a whopping $84,000 for a 90-minute DJ set.
The Brazilian model offers to spin the wheels of steel only when he is paid a bargain of $933 a minute, way over the price a normal DJ charges, reported thesun.co.uk.
Source: Sify News.

Madonna's Lover Jesus Luz Wants £55,000 For 90-Minute DJ set
By MusicRooms
09/04/2010
Madonna's toyboy lover Jesus Luz is reportedly asking for £55,000 for a 90-minute DJ set.
Luz, 22, who has been dating the 51-year-old performer since they met on a photo shoot in 2008, has offered to perform a set for the staggering fee, which works out at £611 for each minute he performs.
His agent has claimed that the Material Girl herself will attend the set as well.
Luz took up DJ-ing a year ago and has since allegedly asked for $10,000 for half-hour gigs in Brazil.
His hit singer girlfriend has regularly been seen accompanying him to gigs.
Source: MusicRooms.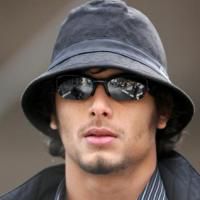 Jesus Luz