Madonna's D&G corset for Truth or Dare NY premiere exhibited in Paris
Le corset D&G porté par Madonna pour la première de Truth or Dare à NY en 1991 exposé à Paris.

"Histoire idéale de la mode contemporaine vol. 2 : 1990–2000"
Musée Des Arts Décoratifs - Paris
From November 25, 2010 to May 8, 2011.

Dolce & Gabbana Pieces Worn By Madonna and Gaga To Be Featured At Musée Des Arts Décoratifs
By Leah Chernikoff - 23/11/2010
Two iconic looks from Dolce & Gabbana will represent Italian fashion at the Musée des arts Décoratifs' "Histoire idéale de la mode contemporaine vol. 2 : 1990–2000" exhibit, which opens in Paris on November 25 and runs through May 8.
The exhibit looks at fashion from the last ten years of the 20th century, beginning with looks from minimalist designers like Azzedine Alaïa, Yohji Yamamoto, Helmut Lang and Martin Margiela and ending with the more provocative and over-the-top designs of John Galliano and Vivienne Westwood.
The Italian design duo, who are currently in hot water on charges of tax evasion, provided two looks to represent Italian fashion at the exhibit–pieces that place them squarely in the more provocative camp. The first look is a corset embellished with multicolored stones and charms from Dolce & Gabbana's Fall '91/'92 collection, made famous by Madonna when she wore it to the '91 premiere of Truth or Dare in NYC. The second piece is a corset armor dress from Spring '07, worn famously by her Madgesty's descendant, Lady Gaga.
Check out the looks below both on the runway and on the gals who made them famous.
Source: Fashionista.

Mode et Textile – Expositions – Prochainement
du 25 novembre 2010 au 8 mai 2011
L'exposition « Histoire idéale de la mode contemporaine » se poursuit avec le second volet consacré aux années 1990-2000. Cent cinquante modèles sélectionnés parmi les collections les plus emblématiques retranscrivent l'univers des créateurs qui ont contribué à ces mouvements de mode par leur démarche, leur recherche stylistique et par leur relation avec la profession ; mélange subtil et parfois violent d'artisanat et d'industrie. Répartis en plusieurs « écoles », belge, anglaise, urbaine et minimaliste, de la haute couture ou indépendante, chaque créateur dévoile sa passion et son savoir-faire. Qu'il ait cherché à rendre hommage à son prédécesseur ou qu'il ait intégré la position de chef de file d'un courant en devenir, le créateur s'affirme au travers de défilés à chaque saison plus travaillés.
Les Arts Décoratifs – Mode et textile
107 rue de Rivoli
75001 Paris
Tél. : 01 44 55 57 50
Métro : Palais-Royal, Pyramides ou Tuileries
Autobus : 21, 27, 39, 48, 68, 69, 72, 81, 95
Source: Les Arts Décoratifs - Site officiel.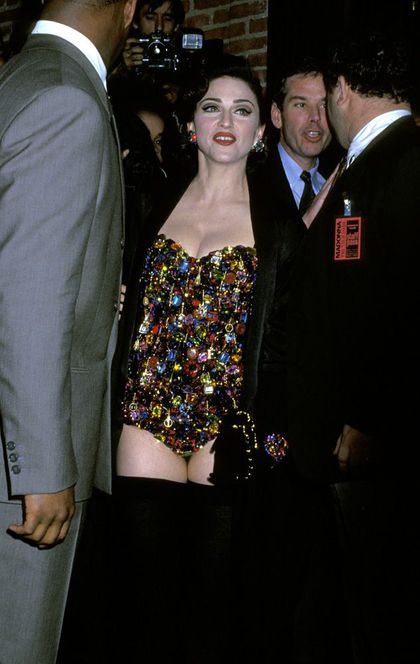 Madonna at the 1991 premiere of "Truth or Dare" in NY.
Photo: Ron Galella/WireImage.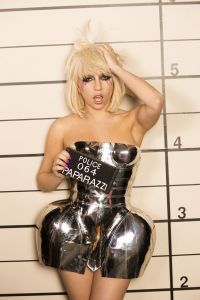 Lady Gaga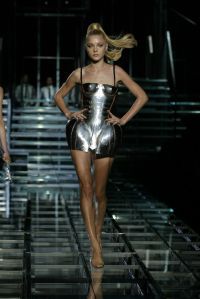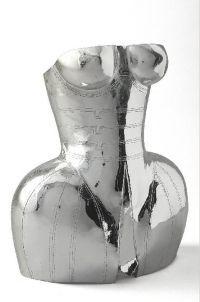 Corset armor dress