Madonna's daughter Lourdes inspired by Agyness Deyn for fashion
La fille de Madonna, Lourdes, inspirée par Agyness Deyn pour la mode.

Madonna's daughter Lourdes Leon looks to Agyness Deyn for fashion inspiration
By Katie Nicholl
Last updated at 10:57 PM on 3rd July 2010
EDITED BY NATHAN KAY
She may live with one of the world's greatest fashion icons – but Madonna's daughter Lourdes has been more inspired by Brit model Agyness Deyn.
The precocious 13-year-old has just unveiled Material Girl, a new clothes range for youngsters.
New York fashion sources say Lourdes has been more inspired by the 27-year-old model than her mum – and is going to ask Deyn to front her marketing campaign.
'Lourdes is a huge fan of Agyness,' says a fashion mole.
'She thinks her Eighties retro style hits the perfect note and she has been using her photos as inspiration.
'Lourdes loves her hipster style and adopted her looks when she was designing the collection. She is desperate to get Agyness on board.'
Source: Mail Online.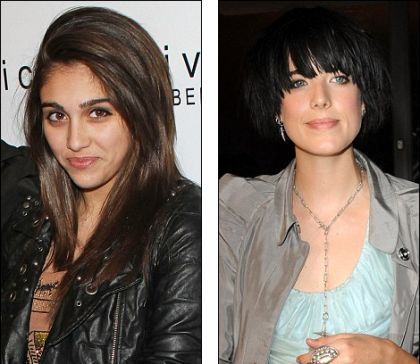 Lourdes Leon and Agyness Deyn
Style icons: Madonna's daughter Lourdes Leon is said to be more inspired by model Agyness Deyn than her own mum.