Madonna's grandmother Elsie Fortin, of Bay City, dies Wednesday
La grand-mère de Madonna, Elsie Fortin, de Bay City, est morte mercredi.

Published: Thursday, March 10, 2011, 11:04 AM
Updated: Thursday, March 10, 2011, 1:12 PM
By Cole Waterman | The Bay City Times
BAY CITY — At age 99, Madonna's maternal grandmother died Wednesday at her Bay City home.
Elsie Mae Fortin was surrounded by friends and family when she died in her home at 404 North Dean St. Fortin was reportedly very close with her famous and Bay City-born granddaughter, having partially raised her since her mother's death in 1963.
Fortin raised eight children, including Madonna's mother. Four of her children, and her husband, predeceased her.
Madonna frequently visited Fortin over the years, staying with her for weeks during the summer months.
Fortin's funeral is being handled by Gephart Funeral Home, 201 W. Midland Street in Bay City, where friends may visit from 2 p.m.-8 p.m. Friday. The funeral liturgy is scheduled for 10 a.m. Saturday at St. Mary of the Assumption Catholic Church, 607 E. South Union.
Source: MLive.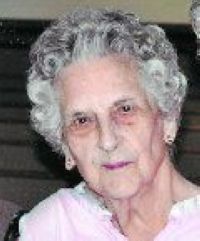 Elsie Mae Fortin