Madonna's ''Hey You'' in Cord's Top Twenty Environment Songs
"Hey You" de Madonna dans le Top 20 des Chansons sur l'Environnement de Cord.

Libre: Songs on environment
By Mel Libre
Free Verse
Friday, April 8, 2011
Published in the Sun.Star Cebu newspaper on April 09, 2011.
IN OBSERVANCE of International Mother Earth Day on April 22, Cord, the digital magazine I edit, published its Top Twenty Environment Songs (visit: http://issuu.com/meel/docs/cord_april_2011_2).
Madonna, who sang Live Earth's anthem, "Hey You" (#5), called for action to protect the environment. The tune is just one of the many that have attempted to bring the message about caring for the earth. Yet only a few environmental songs have become Top 40 hits.
While a good number of pop records are better erased from memory, there are songs for the earth that are timeless. Louis Armstrong's "What a Wonderful World" (#8) is an example; it is a song that has withstood the test of time.
One of the most memorable scenes in the science fiction film, "12 Monkeys," is that of the character of Bruce Willis travelling to the future in the aftermath of destruction. It shows a solitary man in a bare landscape as the song "What a Wonderful World" plays in the background. It leaves one teary-eyed.
There are those that can stand on their own through its lyrics, while others are associated with films or music videos that deal with the earth and the environment.
"Earth Song" (#2), which features the emotional voice of Michael Jackson accompanied by a disturbing video, leaves a lasting impression. Motown genius Marvin Gaye wrote "Mercy, Mercy Me (The Ecology Song)," long before concern for the environment became urgent.
Rock groups are not behind in the green cause with records from the likes of REM ("Fall on Me") and Daughtry ("What about Now"). Songwriter-singers dominate the list with such artists as Jack Johnson, Joni Mitchell, Peter Gabriel, Cat Stevens and Neil Young.
The theme song from the film, "Lost Horizon," is one of the lesser-known compositions of Hal David and Burt Bacharach, yet the dreamy rendition of Shawn Phillips makes it a real gem. A strange entry is The Osmonds' "Crazy Horses" (#14), which is actually about polluting vehicles.
Cord chose "Nature's Way" as the No. 1 environment song for its urgent message and its simple, yet hypnotizing melody. The song was released in 1970, just before the psychedelic rock ensemble Spirit broke up.
Band member Randy California wrote "Nature's Way" in an afternoon when the group was playing at the Fillmore West in San Francisco. Spirit did not become a commercially successful band because it earned the label as one with strong political and social views.
Source: Sun Star.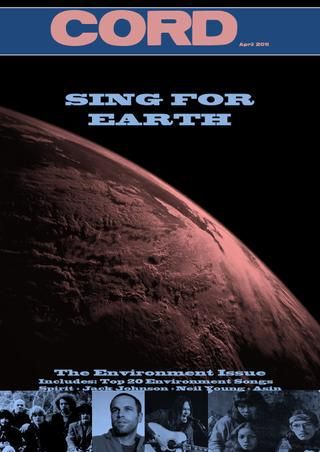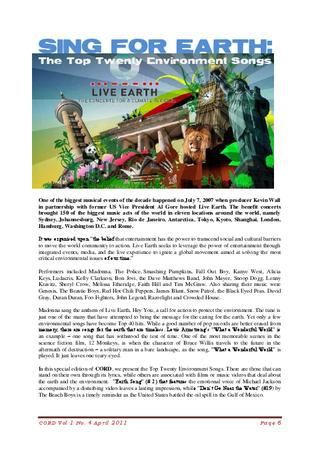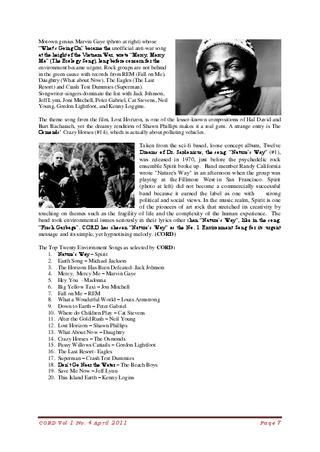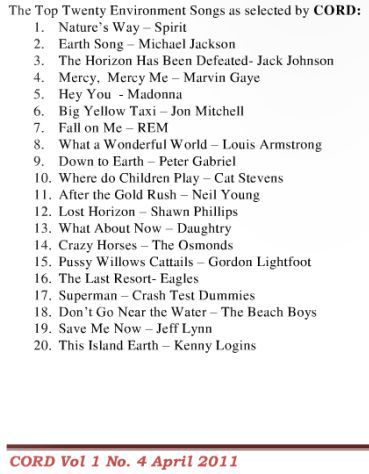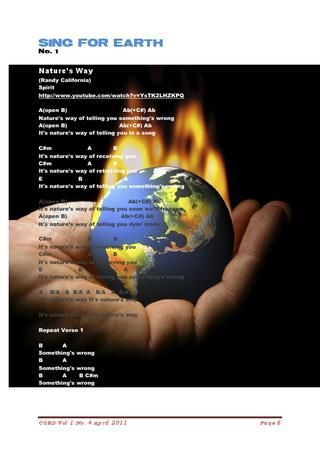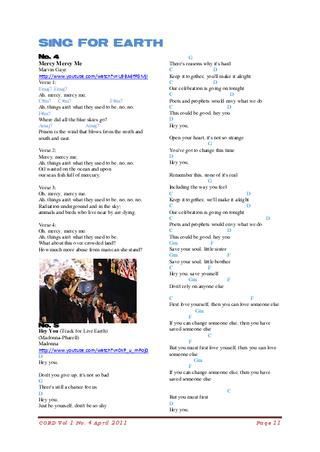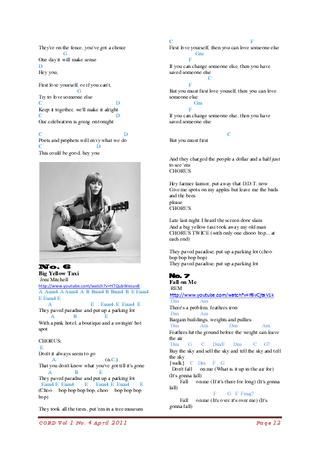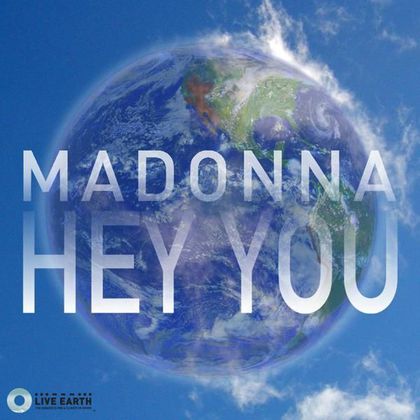 Digital magazine "Cord" - April 2011.