Madonna's junior fashion line debuts next week
La ligne de mode de Madonna pour les jeunes débute la semaine prochaine.

Taylor Momsen of 'Gossip Girl' is face of new 'Material Girl' collection
by Karina Ioffee
REUTERS
updated 7/30/2010 4:27:53 PM ET
NEW YORK — The Material Girl is launching a new clothing line for juniors that will hit stores in the U.S. next week, just in time for back-to-school shopping.
Madonna teamed up with her 13-year-old daughter, Lourdes or Lola, on the collection titled "Material Girl," which borrows from the diva's punk-girl style made popular in the '80s.
Taylor Momsen, the star of television series "Gossip Girl," has been picked as the face of the brand.
"Working with Madonna and Lola has been an unbelievable experience," Momsen said in a statement. "They have such a great sense of style; each brought their personal touch to the styling for the campaign."
The fashion line will be sold in 200 Macy's stores nationwide.
Source: MSNBC/TODAY show.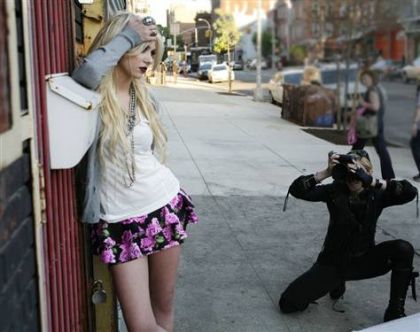 Madonna gets behind the camera at the Material Girl photo shoot with actress and musician Taylor Momsen on May 4 in Brooklyn, N.Y.
Photo: AP.