Madonna's lacklustre performance in ''Up for Grabs''
La performance terne de Madonna dans "Up for Grabs".

Bath time for much-missed Boswell
Laurence Boswell has been signed up to run Bath Theatre Royal's 120-seat studio theatre.
By Charles Spencer 10:10AM BST 11 Apr 2011
The Theatre Royal in Bath is one of Britain's most beautiful theatres and one that proves it is possible to stage work of the highest quality without Arts Council funding. Its enterprising boss, Danny Moar, runs a tight ship, and many of the theatre's shows tour nationally and transfer to the West End.
In recent years, it has also provided a summer home to Sir Peter Hall and his company. This year the great man will be staging the two parts of Henry IV in Bath, the first time he has tackled the plays since his Stratford days in the 1960s. There will also be productions of Coward's This Happy Breed and Alan Bennett's The Madness of George III.
Now, Moar has another coup on his hands. He has signed Laurence Boswell to run the Theatre Royal's 120-seat studio theatre, the Ustinov. I'd been wondering what had happened to Boswell, a top-flight director renowned for his productions of European classics both at the Gate Theatre in Notting Hill and with the RSC, where he masterminded a superb season of plays from the Spanish Golden Age.
But he has also directed more commercial fare in the West End, including Ben Elton's Popcorn, This is Our Youth with Matt Damon and Jake Gyllenhaal, and Up for Grabs, about the contemporary art scene, in which Madonna came to the West End in a spectacular and misguided example of star casting. The play was a mess, Madonna's performance lacklustre and one's view was blocked by burly security men standing in front of the stage.
Boswell says he suffered a degree of burn-out after all this, and has been taking things easier in recent years, though he has been directing classic Spanish drama in Spain.
Now he is resuming the work that has defined much of his career, kicking off the Ustinov season with plays by Calderon, Goethe and Marivaux this autumn, all in new translations and to be performed by the same acting ensemble. Six such seasons are planned over the next three years.
"I want all the texts we perform to be British premieres," says Boswell.
"The Ustinov Studio will present the very best of European classic drama alongside the best of contemporary and modern international work."
I think we could be in for a treat, just as long as Boswell resists the temptation to sign up Lady Gaga to star in Racine or Bono to play the title role in Faust.
Source: Telegraph.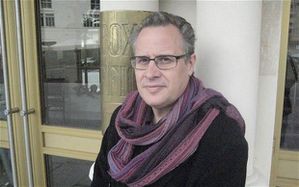 Laurence Boswell: back after the burn-out.
Laurence Boswell directed "Up for Grabs".