Madonna's Malawi reunion hopes dashed
Les espoirs de Madonna de réunion au Malawi fichus.

6th April 2010
By Victoria Richards
Madonna's hopes of reuniting her adopted children with their families were dashed yesterday.
The pop star flew into Malawi to discover her daughter's dad had fled the country over underage sex claims.
Madonna, 51, wants son David Banda and daughter Mercy James, both four, to keep in touch with their blood relatives.
But Mercy's father James Kambewa, 25, faces accusations that he gother mum Mwandida pregnant when she was under 14, the age of consent in Malawi. She died within a couple of weeks of giving birth to Mercy.
Lawyer Emmie Chanike said: "She could have died because she was too young to give birth."
A family source said: "People have accused him of trying to profit from the singer. They warned him he would be arrested for impregnating a minor if he persisted."
David's dad, Yohane Banda, 35, afarmer, said: "I am excited David is coming. I want him to meet his stepmum and new sister and brother."
Source: Daily Star.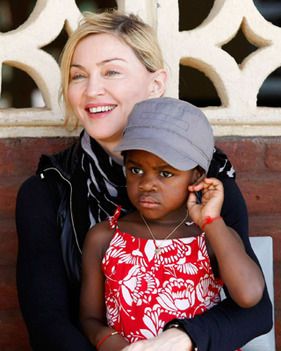 ABOVE: Madonna with daughter Mercy James in Malawi yesterday.