Madonna's mom moment with Lourdes at launch of clothing line
Le moment maternel de Madonna avec Lourdes au lancement de la ligne de vêtements.

Original Material Girl, Madonna, has a mom moment with daughter Lourdes at launch of clothing line
Gatecrasher
Friday, September 24th 2010, 4:00 AM
Madonna played the proud and protective mother at the unveiling of her and daughter Lourdes' Material Girl fashion line at Macy's on Wednesday. The pop star let her 13-year-old, who goes by Lola for short, answer nearly all fashion questions as the duo walked the pink-carpet press line. She straightened out her kid's outfit on a few occasions.
But when a reporter asked if Lola was dating yet, Madonna recoiled and shook her head in a way that suggested, no matter what the answer was, she wasn't ready for her baby girl to start seeing boys.
By the time the action moved to the fourth floor of Macy's, where the Material Girl line is sold, Madonna was back on message. When someone yelled, "We like your jewelry," Mama Ciccone pointed in the direction of her wares and replied, "It's right over there."
Source: NY Daily News.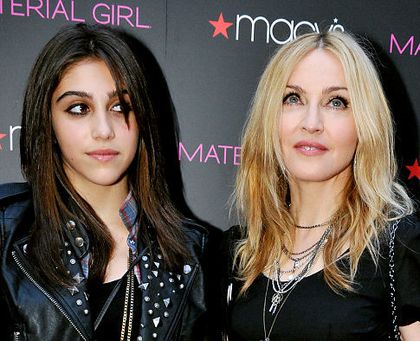 Madonna and her daughter Lourdes Leon, who goes by 'Lola', walk the pink carpet at the lauch of her Material Girl clothing line at Macy's Herald Square.
Photo: Corkery/News.