Madonna's musicien Guy Pratt playing in Australia
Le musicien de Madonna, Guy Pratt, joue en Australie.

Review: Guy Pratt's Wake-Up Call
Michael Ward
Herald Sun April 14, 2011 6:03PM
Guy Pratt's Wake-Up Call at the Hi-Fi Bar until April 24.
ROCK and roll, according to Guy Pratt, is "an ocean of puerile nonsense" - and he's got the anecdotes to back up his claim.
Pratt has been touring bass player for the likes of Pink Floyd, Bryan Ferry, Robert Palmer and David Bowie. He's seen more hotel rooms than he cares to remember.
For anyone who enjoys Spicks and Specks or RocKwiz, an hour with Pratt is an hour well spent.
The Brit raconteur has a keen, self-deprecating wit. He laughs that he's recently toured in a Pink Floyd tribute band - and the money was better.
He knows how to spin a tale. He does a pretty good Keith Richards impersonation, too.
Admittedly some of the anecdotes are a bit ho-hum (the Spandau Ballet material; an anecdote about Andy Taylor from Duran Duran). But the minutiae of what it's like to be part of a gigantic rock entourage - hotels, check-ins, wake up calls, packing, the tour bus - is genuinely interesting.
And then there's the more gossipy material: ever wonder what Robert Palmer did on his days off? What former Rolling Stone Bill Wyman is doing now? Or what working for Madonna is like?
Pratt plays his bass for a handful of musical interludes, which includes a brilliant gag at Duran Duran's expense.
He doesn't smash his guitar at the end of the show, though. As he informs us in one story, smashing a guitar is a lot harder than it looks.
Star rating: ***
Source: Herald Sun.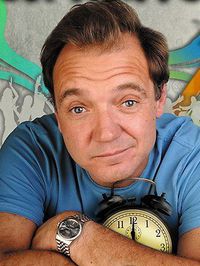 Guy Pratt
Photo: Supplied.