Madonna's original demo tape on auctions in New York on Nov. 21, 2009
Bande originale de la démo de Madonna aux enchères à New York le 21 nov. 2009.


From Elvis to Madonna, rare rock relics on sale
Items on auction block include Kurt Cobain's fingerprints, 'Thriller' fangs
By Mike Celizic
TODAYShow.com contributor
updated 10:03 a.m. ET Nov. 17, 2009
Have you ever had a burning desire to own a pair of Michael Jackson's beaded socks? How about a suit tailor-made for John Lennon when he was a Beatle? Or you might like a size 42 jacket Elvis Presley wore in the film "Speedway." If you're in the market for a used car, how about a black 1985 Mercedes that once provided a royal ride for the King of Pop?
Well, here's your chance: Those items are among hundreds of rare rock relics being auctioned off this Saturday, Nov. 21, by Julien's Auctions at the Hard Rock Café in Times Square in New York City and online at juliensauctions.com.
Almost all of the items were obtained either from the artists themselves, their estates, or friends and family of the artists, Darren Julien told TODAY's Meredith Vieira Tuesday in New York, where he showed off some of the items that will go on the block during the "Music Icons" audition.
Rock pile
Among the 68 artists represented in the auction are Lynyrd Skynyrd, Van Halen, ZZ Top, KISS, The Ramones, Aerosmith, Nirvana, Cher, Debbie Harry, Prince, Mariah Carey, Madonna, Eric Clapton, The Rolling Stones, Elvis, Michael Jackson, Bo Diddley, The Beatles and Bob Dylan.
One of the odder items is a signed card of Kurt Cobain's fingerprints, taken by police in Aberdeen, Wash., when the future rock star was arrested at the age of 19 for trespassing while intoxicated.
"These are highly collectible," Julien said of the card. "It's got his fingerprints. It's very personal. We sold a Jim Morrison fingerprint card for $12,000." Julien said he expects the Cobain prints to go for $6,000 to $8,000.
Another unique item is a demo tape an unknown performer named Madonna made in 1979 to send to record companies in an attempt to get a recording contract. Accompanied by an acoustic guitar, it's just Madonna, her music unadorned by post-production magic and elaborate orchestration. The songs on the tape include "All My Love," "Hear Me" (a song that evolved into "Shine a Light"), "Simon Says" (which became the familiar "Love Express") and "Little Lost Boy."
Julien estimates the tape will bring $1,000 to $2,000, noting that the Material Girl still holds the copyrights to all the songs.
Gloved One's glove
There are also several Michael Jackson items going on the block, including the '85 Mercedes, a custom model imported especially for him. After driving the car around his Neverland Ranch, Jackson gave the vehicle to his aunt. The personalized plates she bought for the car demonstrate her gratitude: "TKS MKL." Julien's partner, Martin Nolan, estimated the car will go for $20,000 to $30,000.
There's also the mold used to make the fangs Jackson wore in the "Thriller" video ($1,000-$2,000), along with a gorgeously beaded glove ($10,000-$12,000) and a pair of socks covered with crystal beads ($2,000-$3,000).
In addition to his song and dance chops, Jackson had a flair for art. Julien showed an impressive pencil sketch of a boy in overalls that the singer drew and signed at the age of 9, expected to bring $2,000 to $4,000 at auction. Another drawing is of Charlie Chaplin and is expected to go for a comparable price.
Beatles and Elvis
Lennon's suit is a stylish number consisting of a black jacket and black, white and gray pinstriped pants. The suit was tailored by D.A. Millings & Son and the jacket has a label with Lennon's name. Estimated price: $6,000 to $8,000.
The Presley jacket displayed on TODAY is bright red, with two vertical white racing stripes. It was part of the King's wardrobe in the 1968 racing movie "Speedway." The jacket has a costume label reading: "MGM Studio Culver City/ Name Elvis Presley/ Prod #1860/ Chest 42." Julien said the jacket sold at auction in 1970 for $600. Nearly 40 years later, it's expected to fetch $6,000 to $8,000.
Another item from Presley is a handwritten set list he jotted down on Las Vegas International Hotel stationery. The King did two shows daily at the hotel from 1969 to '71, and it is not known for which of them the list was written. It includes 18 songs, leading off with "That's All Right Mama" and ending with "The Impossible Dream." Estimated cost: $2,000 to $3,000.
Another Presley item is a gold ring featuring a large purple star ruby surrounded by 20 small diamonds. Elvis gave the ring to his uncle, Vester Presley, after the uncle said how pretty it was. Julien said it should bring $20,000 to $30,000.
Source: MSNBC/TODAY Entertainment.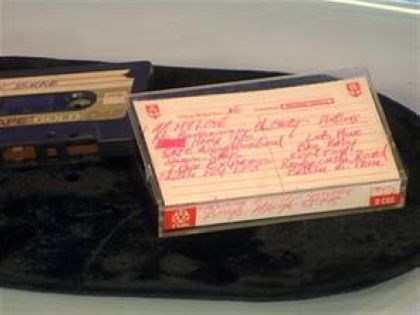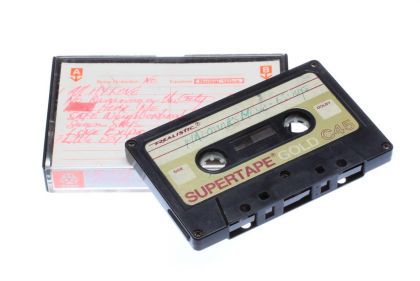 Early Madonna cassette recording
The earliest known Madonna recording, this audiocassette of a 1979 solo acoustic demo session includes "All My Love," "No Running In the City," "Hear Me" (which evolved into "Shine a Light"), "Safe Neighborhood," "Simon Says" (which became "Love Express") and "Little Lost Boy." Estimate: $1,000 - $2,000.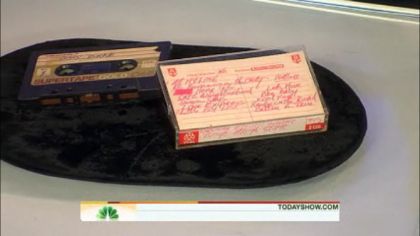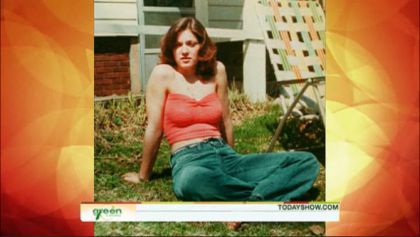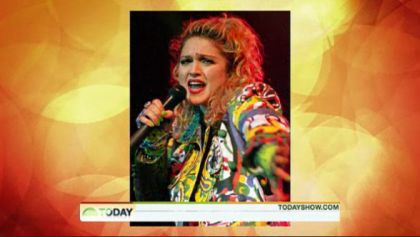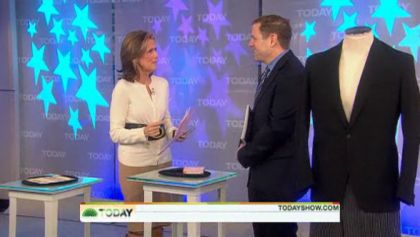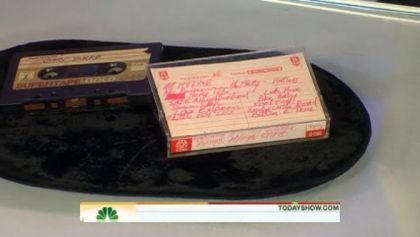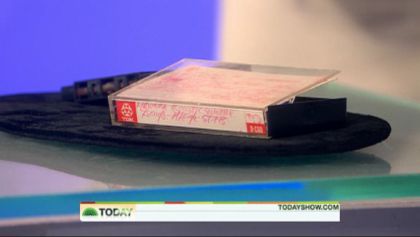 Madonna, Jackson relics among items to hit auction block
Nov. 17: TODAY has a preview of some one-of-a-kind pieces of music memorabilia, including Madonna's original demo tape and John Lennon's suit, that are going up for auction later this month.
Today show

The stuff of rock legend
Clothing and memorabilia belonging to such rock music legends as Britney Spears, Elvis Presley, Michael Jackson and Madonna are being put on the block by Julien's Auctions.


Click here to hear some from Madonna's original demo tape in the video.


Cliquez ici pour entendre un peu de la bande originale de la démo de Madonna dans la vidéo.