Madonna's s(h)ocking display
Tenue spéciale de Madonna.

Fashion icon: Madonna's off day
Madonna's s(h)ocking display
08/08/2010
Madonna is often referred to as a fashion icon. But her latest look left me scratching my head.
The Material Girl had one trouser leg rolled up as she directed proceedings on the London sets of her movie W.E.
I somehow suspect her inspiration was more practical than visionary, not wanting to get her baggy joggers caught in the chain of the bicycle she was riding between locations.
Nevertheless, her fashion conscious daughter Lourdes took inspiration from the style by sporting tights with different colours on each leg as she watched mum with sibling David.
Source: The Sun.

Socksy lady ... Madonna rolls up to her film set.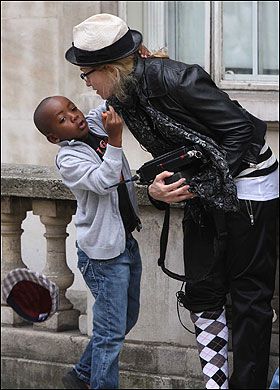 Tender time ... Madonna gives son David a peck.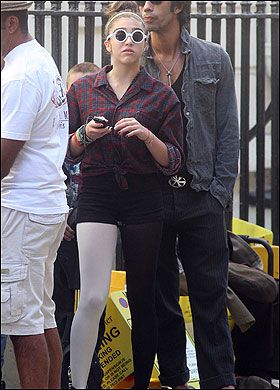 Lourdes on set of mum Madonna's new film.